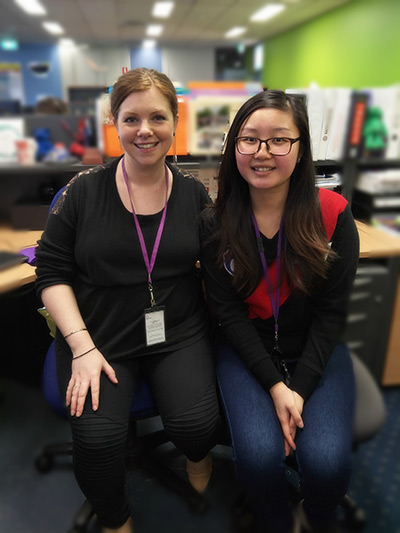 An internship is an opportunity for both the company and the individual intern. That has been the lesson for both Lisa Boyle, a senior scientist in Mondelēz Australia's Consumer Science division and her intern-turned-employee, Mei Kuang.
"Mei was very keen to learn and open to the opportunity of working with Mondelēz, which was great," Lisa said.
"She brought a fresh set of eyes and an enthusiastic approach to the projects that she worked on with the Consumer Science and broader Research and Development teams. Mei offered some great ideas and a different perspective based on applying her skills from her university course."
Mei was studying the Master of Food and Packaging Innovation at the University of Melbourne. The degree was designed with industry partners the Australian Institute of Packaging (AIP). The course spans the research and development product pipeline, from concept to production, with teaching by industry professionals and an internship program.
Mei chose the course on the recommendation of one of her lecturers, who said the internship would be a useful stepping-stone into the food industry.
She interviewed with a pair of companies before she took a three-month internship offer from Mondelēz Australia's Consumer Science team; Mei had already completed a research project on sensory analysis and a consumer survey of Victorian wine.
"I think that got them interested in me, that I had a bit of experience in sensory science," she said.
Once she started, she applied what she had learned in sensory science, food chemistry and validation of new products.
"People who graduate from our course have knowledge of a broad area… we are not specialists in food science, business or packaging, but we have knowledge of all three," she said.
"I was able to learn on my own much of the time and gain a lot of hands-on experience with coaching from my team. You learn much faster that way."
Mei said this breadth allows students to develop their skills in the workplace. Lisa said training a new team member and sharing their knowledge and experience were positives for her team.
"During her time working with us we aimed to provide Mei with an understanding of the type of work that we do within Consumer Science and how this adds value to the broader business," Lisa said.
"Mei worked on two very different projects and had the opportunity to see other Consumer Science work in action to help provide this context."
The internship also allowed the Mondelēz team to see how Mei performed in the workplace: when Mei applied for a position at Mondelēz, they had already seen her working style and ability to perform under the day-to-day pressures of the role.
"You don't necessarily get to see how people work from the interview process. The internship was a great opportunity to set Mei some goals and objectives and see how she approached the tasks and worked within the team environment."
Lisa said internship was a great opportunity for both the intern and the company.
"It gives the interns the opportunity to get a foot in the door and provide a realistic view of what working in a large organisation is like. It is always great to get a new perspective and someone who's keen to apply their freshly-learned skills in a business context. So there is definitely value to be gained from both sides through the internship program."
Applications Close for Semester 1 Intake (February 2018) on 30 November 2017
To find out more please visit http://aipack.com.au/education/master-of-food-and-packaging-innovation/ or contact the AIP by clicking here.