---
Internationally recognised as the premier qualification in the packaging industry.
The Diploma in Packaging Technology is a Level 5 PIABC, 51-credit foundation degree-level qualification that prepares students to take responsibility for packaging operations at any level through the supply chain and can also lead to higher level study.
The course has been designed to take in to account the experiences of training through the pandemic and the results of research undertaken on the ideal learner journey. The course is comprised of short, bite-sized modules that you can study at a time and pace to suit you on a variety of devices.
WHY STUDY THE DIPLOMA IN PACKAGING TECHNOLOGY?
Completion of the Diploma in Packaging Technology demonstrates your commitment to your career and to the industry.
Students who successfully complete the Diploma in Packaging Technology are equipping themselves for progression within the packaging industry to a position where they can assume responsibility for packaging in a company at any point in the supply chain.
Networking opportunities abound, providing the opportunity to draw on the experience and knowledge of others.
WHO IS THE COURSE AIMED AT?
Diploma in Packaging Technology students come from a variety of backgrounds and disciplines, but they all share a desire to broaden and deepen their knowledge and understanding of the packaging industry.
The Diploma is a Level 5 qualification (foundation degree level) so learners should expect a challenging and rigorous course that explores the packaging industry in detail. The AIP would recommend that those wishing to undertake the course to have a minimum of an undergraduate degree in sciences, food technology, engineering or industrial design; or to have previously graduated from the Certificate in Packaging course.
Practical and industry experience can be used as an alternative to formal qualifications and all learners ideally come with good communication, numeracy and IT skills.
BENEFITS TO THE BUSINESS
Drive innovation and efficiency in your business
Staff motivation
Staff equipped to drive development and innovation
Best practice to maximise profit
Access the experience of the industry
BENEFITS TO THE INDIVIDUAL
A recognised professional qualification
Add value to your business, prove your worth
Great networking opportunities
Broaden and deepen your knowledge and skills
Membership of a chartered professional organisation
HOW IS THE DIPLOMA IN PACKAGING COURSE STRUCTURED?
UNIT 1: PACKAGING IN TODAY'S WORLD
Unit 1 introduces the students to the subject of packaging by examining what packaging is used for and what it does for the product and the user, both within its broad social, economic and marketing context, and meeting its specific functional, environmental and aesthetic requirements.
By the end of this unit students should understand:
The role, functions and impact of packaging in the world today.
The structure and interactions of elements in the supply chain from raw material to end use and disposal.
How active and intelligent packaging technologies can enhance traditional packaging methodologies.
How packaging complies with regulatory practices.
The factors that impact upon the environmental sustainability of packaging.
How packaging communicates and satisfies consumer needs.
UNIT 2: PACKAGING MATERIALS
Unit 2 allows the students to study the main packaging materials in terms of their raw materials,manufacturing and conversion processes, and how materials can be used together.
By the end of this unit students should understand:
The properties and manufacturing of glass packaging
The properties and manufacturing of metal packaging
The properties and manufacturing of fibre-based packaging
The properties and manufacturing of plastics packaging
Adhesives and adhesive properties
The manufacture and use of labels
The application and use of closure systems
How materials are combined to achieve the required properties
Printing and decoration processes used in packaging
UNIT 3: PACKAGING PROCESSES
In Unit 3, students will study packaging machinery and packaging line operations in detail. The Unit also introduces the students to many of the management functions associated with the design, development, production and use of packaging materials and components. These include design, decoration, line operations and quality systems.
By the end of this unit students should understand:
The Packaging design and development process.
Packaging machinery and line operations.
Quality and business management in packaging.
HOW LONG DOES IT TAKE TO COMPLETE?
This qualification has a recommended total learning time of approximately 510 hours split across working your way through the course content, revising, sitting the exams and researching and writing your project. The AIP expects the students to take between two to three years to complete the qualification.
---
Read what our recent Graduates have to say about the Diploma course….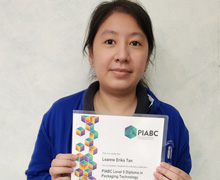 .
Leanne Tan, Dip.Pkg.Tech. MAIP
.
.

.
Jaco Scheepers Dip.Pkg.Tech. MAIP
.
.

.
Nathan Leong Dip.Pkg.Tech. MAIP
.
.

.
Shabbeer Ahmed Shaik Mohammed Dip.Pkg.Tech. MAIP
.
.

.
Sergio Palacio Dip.Pkg.Tech. MAIP
.
.

.
Pratik Surana Dip.Pkg.Tech. MAIP
.
.

.
Filicia Linarta Dip.Pkg.Tech. MAIP
.
.
---
PRICING:
OPTION 1: SINGLE PAYMENT
$14,000 AUD +GST – Paid at time of enrolment.
OPTION 2: SPLIT PAYMENT
$9,200 AUD +GST – Paid at time of enrolment.
$5,200 AUD +GST – Paid prior to commencement of Unit 3.
NB: A re-registration fee will be required if the Diploma in Packaging Technology is not completed
within a three year time frame.
Up to 3 years of complimentary AIP membership is included in your enrolment to the Diploma in Packaging
Technology course. If you have not completed your course within 3 years you will be sent a membership
renewal invoice and will be required to maintain your AIP membership to complete the course.
---
DOWNLOADS

---