ON-LINE FUNDAMENTALS OF PACKAGING TECHNOLOGY BITE-SIZED MODULES
NEEDING TO FILL KNOWLEDGE GAPS?
NEED A BROAD INTRODUCTION TO PACKAGING?
IOPP'S INTERNATIONALLY RECOGNISED ON-LINE TRAINING CURRICULUM IS NOW AVAILABLE IN AUSTRALASIA.
SPECIAL PRICING FOR AIP MEMBERS



*ALL MEMBERS NEED TO ENROL THROUGH THE AIP TO RECEIVE THE DISCOUNTED PRICE – CONTACT US FOR FURTHER INFORMATION

In today's challenging packaging environment, you can't afford to make mistakes or overlook the critical details that cost precious time and money.  You need the knowledge—from materials properties and selection to transport packaging issues—that can help you make better decisions regarding your company's packaging dollars—now.
The Institute of Packaging Professionals' Fundamentals of Packaging Technology is now available to the packaging industry in Australasia through AIP's partnership with IoPP—respected for decades as the trusted authority for continuing packaging education in the USA.
Fundamentals of Packaging Technology on-line is set up for the convenience of busy working professionals, and the training platform is functionally intuitive.  Complete your training when your time allows, and at your own pace.  Wherever you are, the course goes with you!
Fundamentals of Packaging Technology on-line course content is developed by IoPP in consultation with packaging subject matter experts at leading global consumer packaged goods companies who face packaging challenges just like yours.
Take the complete course and learn about all the major segments of packaging—and beyond.  Or customise your training by selecting from 12 lesson bundles organised by topic, or from single lessons as short as 30 minutes.  Fundamentals on-line spans 42 modules and 27 hours of content that is recognised for its quality by the World Packaging Organisation.
The Fundamentals of Packaging Technology on-line course is ideal training to prepare for the Certified Packaging Professional (CPP) exam offered through the AIP and the IoPP.
---
Read what our recent Graduates have to say about the Fundamentals of Packaging On-line course….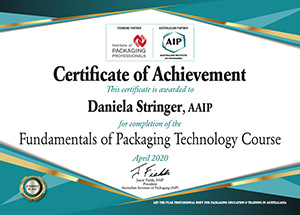 .
.
.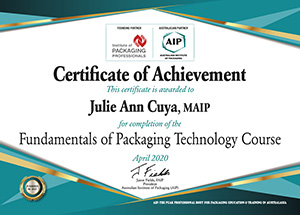 .
.
.
---
DOWNLOAD INFORMATION (PDF)
---
Still have questions? Please contact us.