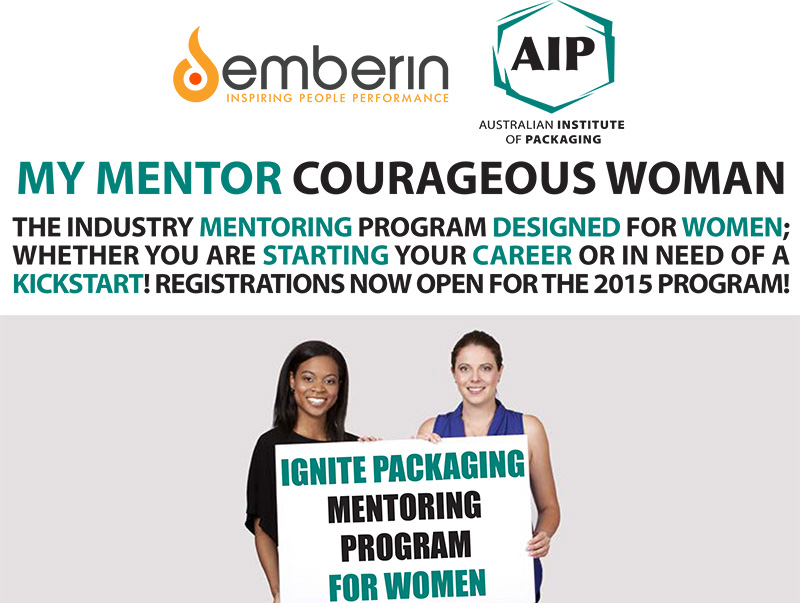 ---
EARLY BIRD OFFER FOR REGISTRATIONS RECEIVED BY FRIDAY 28TH AUGUST: $650 PER PERSON + GST & P&H REGISTRATIONS FOR THE 2015 PROGRAM MUST BE RECEIVED BEFORE THURSDAY 10TH SEPTEMBER.
FINALLY…IT HAS ARRIVED: A MENTORING PROGRAM DESIGNED FOR WOMEN IN THE PACKAGING INDUSTRY
My Mentor Courageous Woman is a mentoring program designed to support women to reach their true potential in your organisation.
WHO IS IT FOR?
The program caters for ALL stages of career cycle to give a new 'jumpstart'!
TRACK RECORD OF SUCCESS
Emberin are proud that they have mentored almost 20,000 women with their My Mentor program. Why has the program had such reach? Quite simply,  because it works. The My Mentor program results are measurable and we have seen some phenomenal results: high promotion rates, increased  engagement, higher performance scores, movement across divisions – and many heartfelt personal challenges conquered! The My Mentor program is based on global research: the areas of focus that women need to hone. It is packed with practical tips, strategies and actions you can implement. It's the practical  'how to' guide for your career success.
EMBERIN IGNITE PACKAGING PROGRAM INCLUDES:
The program provides mentoring in a number of formats. On the CD's participants are mentored by Maureen Frank, the program's creator and on the DVD's participants are mentored by nearly 40 accomplished men and women specifically on the module topics. The workbook is all about the participants drawing their own conclusions. The participants form peer mentoring groups to collaborate and support each other.
The AIP have worked in collaboration with Emberin to create a 12 week program using My Mentor Courageous Woman mentoring program for women in the food, beverage, manufacturing and packaging industries. This program has been specifically designed for the packaging industry – and the AIP will have some great industry leaders available to you to share their lessons, advice and stories.
THE GREAT NEWS IS THAT IT CAN BE DONE FROM WHEREVER YOU ARE – NO NEED TO ATTEND WORKSHOPS OFFSITE.
This is how it works:
1. Sign up for the program.
2. Receive your copy of My Mentor Courageous Woman.
3. Program launch (webinar).
4. Fortnightly webinars – where you can participate and share your story.
5. Connection with an industry 'peer group'.
6. LinkedIn Group for all participants to connect and network with each other.
HERE IS THE CONTENT:
Module 1 Lead Like a Woman.
Module 2 Stop procrastinating – it's time for action.
Module 3 Personal branding – understand what you are selling.
Module 4 Build a plan – your strategy for your life and career.
Module 5 Taking calculated risks – shift your mindset.
Module 6 Raising your visibility and selling yourself.
Module 7 The power of networking.
Module 8 Communicate to be heard.
Module 9 Understanding male and female style differences.
Module 10 Influence and negotiate win-win outcomes.
Module 11 Striking the balance.
Module 12 Go for the KNOCKOUT and make it happen!
---
DOWNLOADS
Please CONTACT US for further information and to register your interest.
---