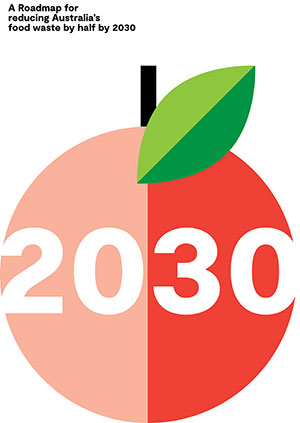 Each year, over seven million tonnes of food are wasted in Australia, costing the economy an estimated $20 billion. At the same time, more than 1 in 5 Australians have experienced some form of food insecurity. In 2017, the Australian Government released the National Food Waste Strategy, which included a national target to halve Australia's food waste by 2030. This commitment received the support of all of Australia's environment ministers. Food Innovation Australia Limited (FIAL) was engaged as the independent organisation to support the implementation of the National Food Waste Strategy.
In March the Roadmap was released for Reducing Australia's Food Waste by Half by 2030 which marks a key milestone in the implementation of the National Food Waste Strategy. The Roadmap provides a clear path forward for achieving the 50% reduction in food waste, acknowledging the current challenges and efforts.
The Roadmap sets out the short, medium to long term actions needed to support reductions in food waste, including a Voluntary Commitment Program. This Target, Measure, Act approach has been successful all over the world in helping agri-food businesses to better understand and reduce their food waste. FIAL will now be focusing on finalising the Voluntary Commitment Program to engage business in food waste reduction activities.
This Roadmap establishes a vision for moving forward, recognising the challenges of our current situation across the nation and along the food value chain. While work is already underway in many sectors, there are opportunities to improve coordination through robust governance,
reporting against a balanced scorecard and better understanding the overall feasibility of achieving a 50% reduction by 2030.
Assistant Minister for Waste Reduction and Environmental Management, Trevor Evans MP, welcomed the release of the Roadmap, setting the direction for all levels of government, industry and other key stakeholders to reduce Australia's food waste.
"The Roadmap is a positive step forward as we work to achieve our national goal of halving the amount of food going to landfill by 2030 – this is undoubtedly an ambitious goal and to achieve it, we need everyone to play their part," he said.
"The food rescue sector plays an important role in ensuring food that's perfectly edible doesn't go to landfill, and instead is diverted to Australians experiencing food shortages. So I am very pleased to see the four major food rescue and relief organisations working collaboratively together to achieve these objectives".
Over the past 2 years, FIAL has been working closely with multiple stakeholders to identify the steps required to make the food waste reduction target a reality. These stakeholders include food rescue and relief organisations, agri-food industry peak bodies, the Fight Food Waste CRC, the National Food Waste Strategy Steering Committee, the States and Territory Government Reference Group, and various national and international food waste experts. These
consultations show there is real promise in increasing awareness and changing behaviour through communication, engagement and working together across the food value chain.
The National Food Waste Steering Committee members have contributed to this roadmap and include:
AgriFutures Australia
Australian Food and Grocery Council
Australian Hotels Association
Australian Institute of Packaging
Australian Retailers Association
Centre for Supply Chain and Logistics, Deakin University
CSIRO
Fight Food Waste Cooperative Research Centre
OzHarvest
National Farmers' Federation
National Waste and Recycling Industry CouncilAustralian Food Cold Chain Council
Council of Rural Research and Development Corporations
These consultations show there is real promise in increasing awareness and changing behaviour through communication, engagement and working together across the food value chain.
A Voluntary Commitment Program is a powerful vehicle for reducing food waste across the supply chain; from retail, hospitality, food service organisations, to suppliers. An effective Voluntary Commitment Program that has been implemented internationally has been found to reduce food waste by up to 28%. FIAL is currently developing a Voluntary Commitment Program for Australia.
The first of a number of targeted sector action plans has been drafted with more scheduled in 2020. These plans take a 'whole-of-sector' systems perspective to identify opportunities and target interventions that maximise food recovery, reduce waste and create multiple benefits.
To download the Roadmap click here
---