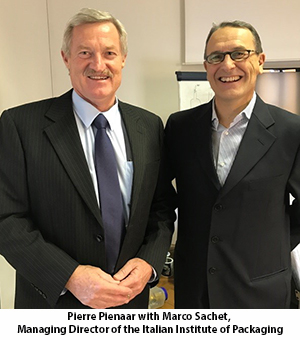 This Packaging Technology training course offered by the World Packaging Organisation (WPO), in conjunction with the Istituto Imballaggio Italiano (III) and the Australian Institute of Packaging (AIP), took place in Milan in early October 2017. This followed last year successful training program in Milan, thanks to Marco Sachet and his team.
The aim of the training was to equip participants with greater in-depth English packaging knowledge in order for them to tackle the challenges facing the packaging industry in their current environment and to prepare them for the competitive advantages emerging in the European Economic Community market. This WPO Packaging Technology intensive training course serves to grow participants' confidence in packaging capabilities, providing a level of insight and understanding of the packaging industry that adds real and measurable value to careers and businesses.
It was a wonderful week of learning and sharing of experiences and challenges for all participants. Once again, the desire and the need for greater knowledge and up-to-date expertise in the science and technology of packaging were clearly evident. By far the majority of the students present were graduates in some field or other but their careers had found them associated with the packaging industry where they either felt overwhelmed or under-qualified or, by their own admission after training, in a new situation where they discovered that they "never knew what they didn't know!"
All were enthusiastic with their new found English knowledge. They were confident that their learning would make a significant difference in their work place and in future decisions especially those that interface in English, with suppliers and customers. I was duly impressed with their oral exam results on the final day where each student was presented with a technical packaging scenario and had to explain to the class what they would do in resolving the matter in their second language, English.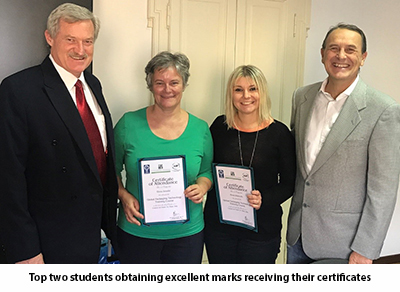 The participants were from varying packaging fields, such as convertors in flexibles, and users in food packaging. They soon found how to tackle and solve practical packaging issues relating to their own workplace, especially in the field of saving food.
The ongoing aim of this teaching and learning is to equip more and more people with a better understanding of the impact, the effects and the power of appropriate packaging. The ubiquitous pack can be a friend or a foe but with greater knowledge on its role from design to reuse, our world could solve many of its problems. The future of packaging and education in this field is exciting.
Written by
Prof Pierre Pienaar FAIP, CPP
AIP Education Director
WPO Vice President: Education
October 2017