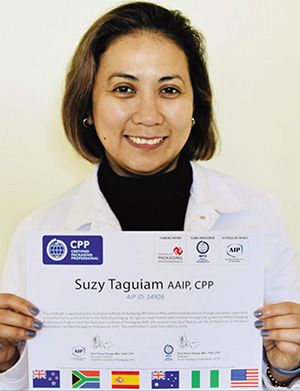 The AIP asked the latest Certified Packaging Professional (CPP), Suzy Taguiam AAIP, CPP, a few questions about her career, packaging education and why the Certified Packaging Professional (CPP) designation is so important for the industry…
Q1: How long have you been in the industry?  What are your areas of expertise?
Suzy: 
I have worked in different multinational FMCG companies for the last 20 years.   Most of this time was spent working as a hands-on engineer involved in diagnosing and anticipating potential issues related to product, process, and packaging as they relate to design, specification, equipment, and material interface.   My areas of expertise are innovation, problem solving and continuous improvement of packaging, equipment, and processes through application of engineering concepts, material science, experimental design, and statistical methods.  As a packaging professional I am responsible for managing activities for the design, development, and implementation of packaging for NPD, sustainability, and renovations projects.
Q2: What made you apply for the Certified Packaging Professional (CPP) Designation?
Suzy:
The primary reason I applied for the CPP Designation is because I wanted an international certification program that could evaluate my competency and proficiency as a packaging professional.  Committing to attain this global recognition also demonstrates my passion and dedication to building expertise in all areas of packaging.
Q3: How important is attaining the CPP designation to you as an individual?
Suzy:
I decided to make the CPP designation the focal point of my packaging career since learning of its rigorous requirements.  When IoPP informed me that I passed in the upper percentile I felt extremely happy and proud.  Achieving CPP has elevated my confidence that I possess the valuable packaging technology knowledge, experience, and skills to be successful in the packaging industry.
Q4: How important is the CPP designation for the greater recognition of people in the packaging industry?
Suzy:
To date, only 2000+ packaging professionals have attained CPP status globally and for good reason – the requirements needed to be certified are stringent and not easily attainable.  The process is like going through the eye of a needle but once an individual gains CPP designation it provides greater recognition since the industry recognises it as a commitment to excellence in the packaging profession.
Q5: Were there any new learnings or takeaways that you gained from the experience?
Suzy:
As public attention to environmental issues continue to grow and the packaging impact now considered a mainstream news item, I learned it is now more crucial than ever that packaging professionals are equipped with the right (verified) knowledge to ensure sustainable solutions will not result in compromising the ultimate purpose of packaging which is still to maintain the ability to protect, preserve, contain, communicate, and transport a product all the way to the consumer.
Q6: What next for your career?
Suzy:
The rate of change happening in the field of packaging in terms of research, development and innovation is exponential and I am very excited to be part of this positive transformation.  For this reason, my focus is entirely on advancing my career and professional development by continuing education, training and staying abreast with the latest trends in packaging.  I am also keen to give back to the packaging community by way of mentoring and knowledge sharing with peers who are passionate about it.
The Certified Packaging Professional (CPP) designation for the industry is offered exclusively through the Australian Institute of Packaging (AIP) in Australasia, the Certified Packaging Professional (CPP) designation is the leading mark of excellence internationally and a must-have recognition of industry proficiency and achievement for packaging professionals. CPP credential demonstrates that a packaging practitioner possesses packaging knowledge, experience and skills to the degree that they deserve recognition as a true packaging professional; a cut above their peers. Contact the AIP today to find out how you can become a Certified Packaging Professional. info@aipack.com.au