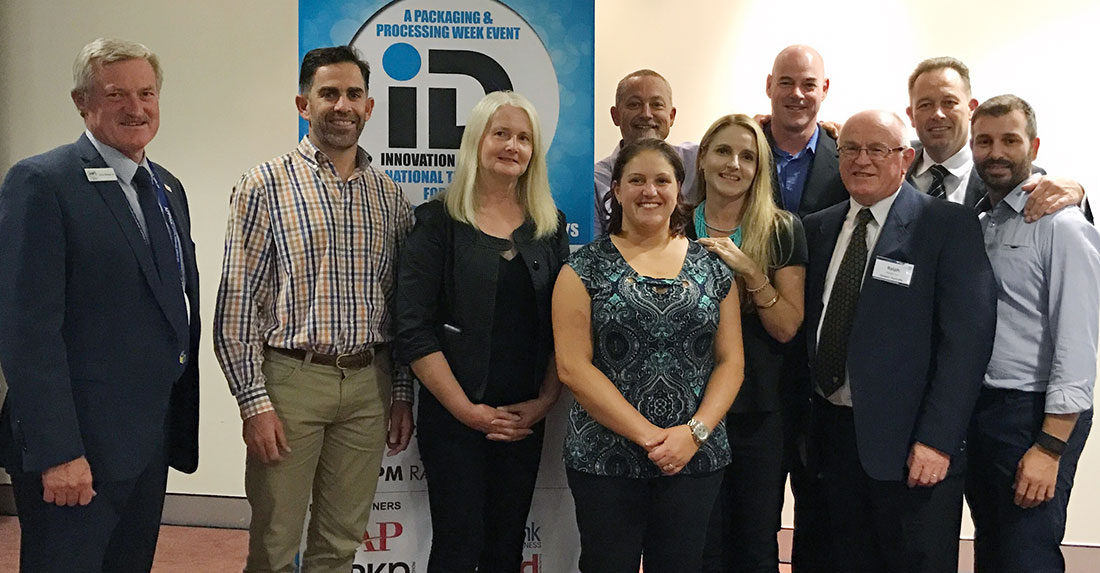 (L to R) Pierre Pienaar FAIP, CPP – Anthony Peyton MAIP – Dr Carol Lawrence, FAIP – Joanne Cockerill Dip.Pkg.Tech. MAIP, CPP – Jason Fields FAIP – Nerida Kelton MAIP – George Ganzenmuller Dip.Pkg.Tech. FAIP – Ralph Moyle FAIP – Craig Wellman FAIP – Michael Grima MAIP
---
The Australian Institute of Packaging (AIP) welcomed a new National President and new Board at their annual general meeting last week which was held alongside of AUSPACK 2017.
Dr Carol Lawrence Phd, FAIP has been elected to be the National President of the Institute for the next two years. Carol's experience in the packaging industry spans over 20 years, starting with a technical role that underpinned the selection of the most appropriate label material to complement the packaging. This role was enhanced by a background in chemistry, including a PhD in polymer chemistry, gained in the UK. She has expertise in assessing the environmental impacts of self-adhesive label stocks and how to select sustainable raw materials and ensuring that mechanisms are in place for third party verification of their environment. Carol was also the Victorian Chairperson for the AIP for last two years.
The AIP National Board Members include two new members in Anthony Peyton MAIP as the new Victorian Chair and Jason Fields FAIP to the Northern Region committee. Board members that have continued on for another term include Joanne Cockerill MAIP, CPP as Central Region Chair, Brent Du Preez MAIP as Central Region Associate, Pierre Pienaar FAIP, CPP as Education Director and Northern Region Chair, George Ganzenmuller FAIP as Northern Region Associate, Greg Roberts FAIP, CPP as Southern Region Associate, Craig Wellman FAIP as Treasurer, Ralph Moyle FAIP as Education Coordinator and Nerida Kelton MAIP as National Executive Officer.