AIP WELCOMES TWO NEW CERTIFIED PACKAGING PROFESSIONALS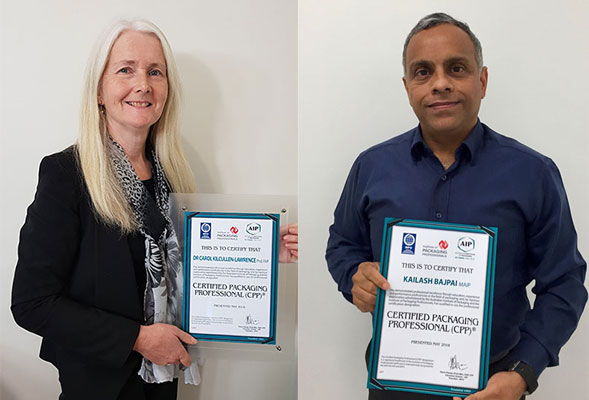 The Australian Institute of Packaging (AIP) would like to congratulate Dr Carol Kilcullen-Lawrence PhD, FAIP, CPP, Sustainability Specialist, UPM Raflatac and Kailash Bajpai MAIP, CPP, R&D Team Leader – Milk, Beverage, Cheese, Parmalat for attaining their Certified Packaging Professional (CPP) designation. Offered exclusively through the Australian Institute of Packaging (AIP) in Australasia, the Certified Packaging Professional (CPP) designation is the leading mark of excellence internationally and a must-have recognition of industry proficiency and achievement for packaging professionals.
The AIP asked Carol and Kailash a few questions about their careers and packaging education and why the Certified Packaging Professional (CPP) designation is so important for the profession and the industry…
HOW LONG HAVE YOU BEEN IN THE INDUSTRY? WHAT ARE YOUR AREAS OF EXPERTISE?
CL: I arrived in Melbourne in 1992, intending to stay for 3 years. However, with a background in Biological Chemistry and a PhD in Polymer Chemistry, after 5 weeks found myself working as a technical service chemist at Jac Australia (now Avery Labels). I was testing label stocks, to recommend the best self-adhesive label to match both the product, it's packaging and the labels intended print method. So over my 26 years in the labelling side of packaging, I have seen almost endless combinations of label print carrier, adhesive and release liner – the backing which is removed to apply the label.
It is really important to select the right label for the package by considering key criteria. For example the adhesive needs to be matched to the package in at least three ways: is it to be a permanent or removable label; is it applied at ambient, elevated or cold (and potentially condensated) surfaces; how is the label going to affect the package once applied in terms of recyclability or migration of the adhesive?
KB: I have over 20 years' experience in the Packaging industry. I have extensive experience in developing packaging for a wide range of food and non-food products and in efficiency improvement through waste & cost reduction programs. I have worked with packaging material manufacturers as well as users, which gives me unique insights into packaging manufacturing and its usage in a commercial environment.
WHAT MADE YOU APPLY FOR THE CERTIFIED PACKAGING PROFESSIONAL DESIGNATION?
CL: Labels are just one, often small, part of the package, however they are applied to an endless array of products. With my current focus on sustainability of packaging it was a natural step to want to learn more about all the different packaging formats to see where sustainable labelling can be maximised.
KB: Whilst I already have a formal Post Graduate qualification in Packaging Technology through the Indian Institute of Packaging however, I am firm believer in continuous learning and keeping abreast of the latest trends and technologies in delivering innovative and commercially viable solutions to the business. The CPP, through the AIP, offers structured yet a very practical way, to keep on top of the Fundamentals of Packaging Technology and learn from other's experiences.
HOW IMPORTANT IS ATTAINING THE CPP DESIGNATION TO YOU AS AN INDIVIDUAL?
CL: I have been inspired by the number of packaging professionals who have chosen to attain the CPP in this part of the world and I love to study; as learning is a lifelong journey. Even though I knew I had the years of experience to qualify, it can be daunting sitting for an exam.
However, I would encourage each and every packaging professional to get a copy of the Fundamentals of Packaging Technology textbook through the AIP and just start reading it, as it unfolds in a very logical manner, and you will know by the time you get part way through that achieving the CPP (Certified Packaging Professional) is definitely achievable.
KB: Even though I have formal Packaging credentials, the CPP designation has given me the opportunity to refresh my knowledge of Science behind material manufacturing and the interaction with products and machines in the current environment. Practical examples correlated and have reinforced my experience and understanding of Packaging Technology.
HOW IMPORTANT IS THE CPP DESIGNATION FOR THE GREATER RECOGNITION OF PACKAGING PROFESSIONALS?
CL: The importance of the CPP designation is still emerging, in a very positive way across the world. It is a very important progression for our industry both domestically and international; particularly to identify and recognise packaging professionals who have years of experience, so that younger entrants to our industry can seek out their support and mentorship. On that note if anyone is thinking of attaining the CPP designation, I am more than happy to share my experience and study methods to guide you through the process.
KB: In Australia, there are limited opportunities at University level for individuals to get internationally recognised skills in Packaging Technology. Thanks to the AIP, the CPP program is now offered in Australasia which is a tremendous opportunity for recognising the skill levels currently available in the packaging industry. The CPP course offered exclusively through the AIP, offers an excellent opportunity for people to attain international accreditation. The CPP is now accredited in 52 countries and numbers are growing. For the wider industry here in Australasia the CPP designation will bring new talents and professionals who will continue to deliver innovative and sustainable packaging solutions for years to come. The AIP also offers a Diploma in Packaging Technology, a Certificate in Packaging and the Fundamentals in Packaging Technology on-line to help bridge packaging knowledge in this region.
ABOUT THE CPP PROGRAM
Isn't it time that you joined recognised packaging experts from around the world with the industry's leading professional designation? Attaining the CPP® designation is an excellent investment in your professional development and the credential defines the packaging professional and allows organisations to seek out and hire the right professional based on verified knowledge, skills and industry contributions. CPP is a designation some of the leading packaging companies in the world want their influential team members to have because it demonstrates broad competency in all major areas of packaging. CPPs today typically enjoy more senior, decision-making positions in their companies, and research also suggests that holders of CPP often out-earn their non-certified peers. CPP credential demonstrates that a packaging practitioner possesses packaging knowledge, experience and skills to the degree that they deserve recognition as a true packaging professional; a cut above their peers.
To find out more about the Certified Packaging Professional (CPP) designation please email the Australian Institute of Packaging (AIP) on educate@aipack.com.au or click here…
---