The AIP talks to our latest Diploma in Packaging Technology graduates Pratik Surana Dip.Pkg.Tech. MAIP, Quality and Packaging Technologist, Beerenberg Farm and Filicia Linarta Dip.Pkg.Tech. MAIP, Research and Development Scientist, General Mills about what they gained from the Degree.
What is your current role? What are your areas of responsibility?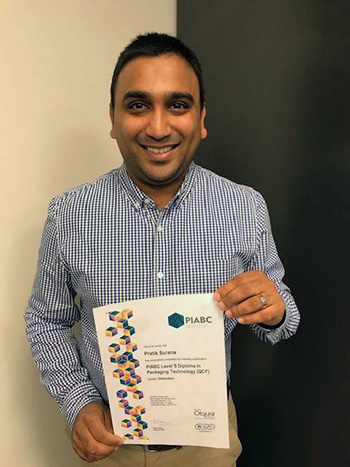 Pratik: My current role is Packaging/QA Technologist. My role is a mixed role between Technical and Packaging. I currently manage new packaging development, packaging support to production, commitment to APCO, packaging sustainability and I work with Operations Managers on packaging related capital projects. I also look after some quality programs like Approved Supplier, Training, Preventative Maintenance, Pest Control and general quality support. I also support the Technical Manager with HACCP, SQF and quality management systems.
Filicia: I am a Research and Development Scientist working at General Mills focusing in the Mexican brand. I am responsible for new product development and key cost savings initiative for both product and packaging within the Mexican portfolio in the Australia and New Zealand market.
What does graduating from the Diploma in Packaging Technology mean to you?
Pratik: It means that I can work in the field of Packaging with the right knowledge and background. It means that I can better understand packaging and the role it plays in our business.
Filicia: Relieved. I took 4 exams in 2 sittings and spent another 2 months working on my thesis so I am definitely very happy to finally complete the Degree. I have a lot of experience in product R&D but I am pretty new in the packaging sector. With the Packaging Degree, I can gain more credibility when working on various packaging projects among my peers.
How will you apply this knowledge moving forward?
Pratik: From now on, every time I think about developing new packaging I will think about the most basic question. That is 'how will this packaging fulfil the functions of packaging?'. When I look at technical data sheet, its not just words and numbers. They actually mean something and I will understand what those numbers mean for the packaging, for operation, for our consumers and for our business. When I look at troubleshooting a packaging issue, I will refer back to my knowledge and think about all the packaging factors that could be contributing to the issue and work through them.
Filicia: Trying to apply what I have learnt during the Degree into practical experience in the factory floor for problem solving and troubleshooting.
Do you have any advice on why other people should complete the Diploma in Packaging Technology?
Pratik: Anyone who is intrigued by packaging and finds the field of packaging fascinating, I commend this Diploma to them. It is an eye opening experience to learn how packaging works and how it can fulfil its functions. It is not all just about making packaging look beautiful and attractive. It's also about making the packaging functional and this Diploma helps you understand that as well.
Filicia: You will gain more credibility among your peers as packaging is very specific and niche. This Degree helps to get your foot in the door.
So where to from here for your career?
Pratik: At the moment, I will continue in my current role at Beerenberg. I will continue to apply my packaging knowledge, learn and grow.
Filicia: I am now looking after both product and packaging. On some projects I will do both aspects combining my skillset. This is definitely challenging and confusing at times as usually two separate people are doing the job. However this is where I now have my cutting edge among my peers. Moving forward, I am hopeful that I can broaden my career even more by doing more complicated packaging projects with substantial financial impact.
The Diploma in Packaging Technology is a PIABC accredited Level 5 qualification which is internationally recognised for those wishing to pursue a career in the packaging industry or for those who are already in the industry and who wish to extend their knowledge and expertise. It has been offered by the AIP continuously for forty years and has an exemplary record of successful students. The Diploma in Packaging Technology prepares students to take responsibility for packaging operations at any level through the supply chain. The qualification is comprehensive, and provides an opportunity to study the principles of packaging, packaging materials and packaging processes.