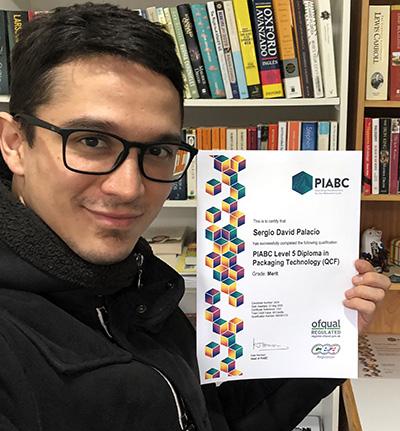 Sergio Palacio Dip.Pkg.Tech. MAIP, Automation Project Engineer, HMPS, is the Australian Institute of Packaging's latest Diploma in Packaging Technology graduate and the AIP asked him what he has learnt during his studies…
Q1: What is your current role? What are your areas of responsibility?
Sergio: My current role is Automation Project Engineer for the Asia-Pacific region. My areas of responsibilities are project managing, client liaison, plant layout and electrical design; components selection and purchasing; and programming and commissioning of secondary packaging machinery. This includes Bag-in-Boxes, Wraparound and RSC case packers; Robot Cells and Palletisers
Q2: What does graduating from the Diploma in Packaging Technology mean to you?
Sergio: Graduating means the opportunity to learn more about the industry I am working in and hope to stay in for a long time.
Q3: How will you apply this knowledge moving forward?
Sergio: My aim is to incorporate this body of knowledge into the design of secondary machinery, in order to make them more reliable, efficient and affordable. I have found that sometimes there is a disconnect between product packaging design and the machinery that is designed to pack those products. Great effort is put into making packaging fulfil the packaging functions without enough thought put into how the packaging will perform throughout the production line. I hope that now that I have graduated from the Diploma in Packaging Technology, I can have a greater influence in the design of the packaging for the products our machines are meant to pack.
Q4: Do you have any advice on why other people should complete the Diploma in Packaging Technology?
Sergio: Undertaking the Diploma allows great insight into the packaging world. For someone that comes for Mechatronic Engineering, it laid down the foundations of packaging for me. I strongly recommend anyone involved in the industry to consider doing the Diploma in Packaging Technology as it will contribute significantly to the understanding of all the key elements of packaging technology.
Q5: So where to from here for your career?
Sergio: That is a very good question. Ask me again after the pandemic and I might have a better idea! The Diploma in Packaging Technology introduced me to a new world that I am still exploring and finding my way around. I do know that I want to continue improving and growing in the automation side of the packaging industry.
Q6: Will you consider applying to become a Certified Packaging Professional in Training as your next professional development stage?
Sergio: Yes, absolutely. I will like to continue my training towards becoming a Certified Packaging Professional (CPP)
Mark Emmett, MAIP, Executive Chairman, HMPS added that 'HMPS are delighted with Sergio's recent graduation from a Diploma in Packaging Technology, we look forward to seeing the application of his learnings to improve his understanding of our customers core drivers when overseeing his future projects."
The Diploma in Packaging Technology is a PIABC accredited Level 5 qualification which is internationally recognised for those wishing to pursue a career in the packaging industry or for those who are already in the industry and who wish to extend their knowledge and expertise. It has been offered by the AIP continuously for forty years and has an exemplary record of successful students. The Diploma in Packaging Technology prepares students to take responsibility for packaging operations at any level through the supply chain. The qualification is comprehensive, and provides an opportunity to study the principles of packaging, packaging materials and packaging processes. http://aipack.com.au/education/diploma-in-packaging-technology/