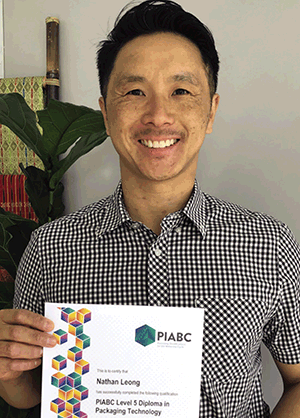 The AIP would like to congratulate our latest Diploma in Packaging Technology Graduate, Nathan Leong Dip.Pkg.Tech. MAIP, R&D Packaging Specialist, Primo Foods.  Nathan kindly shared with the AIP what he learnt during his studies…
Q1: What is your current role? What are your areas of responsibility?
Nathan:
My current role is R&D Packaging Specialist for Primo Foods.  My areas of responsibility are:
.
1. Leading and implementing packaging projects within the business relating to:
a.      New Product Development
b.      Recyclability/Sustainability
c.      Value engineering / Cost-outs
d.      Problem solving packaging and machine related issues.
e.      Customer request, questions and complaints.
2. Briefing, designing and specifying new packaging formats with suppliers and marketing/sales teams.
3. Final artwork reviewer and signatory.
4. General packaging and product technical support to the business.
Q2: What does graduating from the Diploma in Packaging Technology mean to you?
Nathan:
Personally the completion of the Diploma in Packaging Technology means a great deal.
1. Firstly, it gives me a good sense of achievement in completing a course that was content heavy with plenty of technical detail and complexity.
2. This completion also gives me a new level of confidence to know that I am ready for take on complex packaging related problems and challenges.
Q3: How will you apply this knowledge moving forward?
Nathan:
The Diploma in Packaging Technology will forever be a core foundation of packaging and product knowledge as a professional within the food industry (and possibly beyond).
As a packaging specialist I plan to use my knowledge to design more accessible and sustainable packaging (in scope of the SPG's), improve manufacturing processes and implement recycle ready packaging solutions to meet the 2025 National Packaging targets.
I believe it will benefit me for potential career positions as a Project Manager, New Product Development Manager, Technical Sales and General Management the knowledge will no doubt assist me to make informed decisions to positively impact the business.
Personally, I will be using the knowledge and principles of polymer chemistry, packaging development and sustainability to educate my children, family and friends on how packaging really impacts the world.
Q4: Do you have any advice on why other people should complete the Diploma in Packaging Technology?
Nathan:
Ensure you take the time to do this course. It will positively change your life personally and professionally. Undertaking the Diploma in Packaging technology will accompany and build your skill set no matter what role or industry you are in.
Q5: So where to from here for your career?
Nathan:
That is a very good question.  Ask me again after the pandemic and I might have a better idea.  The Diploma in Packaging Technology introduced me to a new world that I am still exploring and finding my way around. I do know that I want to continue improving and growing in the automation side of the packaging industry.
Q6: Will you consider applying to become a Certified Packaging Professional in Training as your next professional development stage?
Nathan:
Ideally I will head into Product & Packaging Project Management roles and then General Management Positions.  The Diploma in Packaging will always play a foundation as the core knowledge for these positions.
Thereafter, I aim to potentially retire as an Educator or Mentor in packaging whilst practicing Tai Chi and Yoga!
The Diploma in Packaging Technology is a PIABC accredited Level 5 qualification which is internationally recognised for those wishing to pursue a career in the packaging industry or for those who are already in the industry and who wish to extend their knowledge and expertise.  It has been offered by the AIP continuously for forty years and has an exemplary record of successful students. The Diploma in Packaging Technology prepares students to take responsibility for packaging operations at any level through the supply chain. The qualification is comprehensive, and provides an opportunity to study the principles of packaging, packaging materials and packaging processes. To find out more email info@aipack.com.au