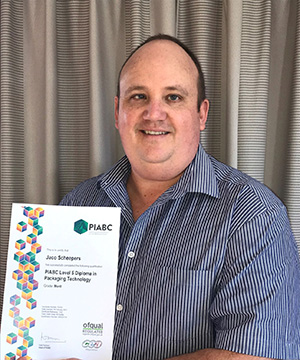 The AIP would like to congratulate our latest Diploma in Packaging Technology Graduate, Jaco Scheepers, Dip.Pkg.Tech. MAIP, Senior Packaging Technologist at Synlait Milk Ltd in New Zealand.  Jaco kindly shared with the AIP what he learnt during his studies…
Q1: What is your current role? What are your areas of responsibility?
Currently I am a Senior Packaging Technologist at Synlait Milk Ltd. I provide packaging support to Synlait's Product, Process, Manufacturing and Quality Teams by providing expertise on packaging material specifications, selection, testing and clearance against relevant international and national standards. I have a strong focus on participating in the supplier selection and qualification processes for packaging materials, and the evaluation of food safety and product stability implications of packaging formats and materials for products at Synlait. My role plays a critical part in the commercialisation of consumer and nutritional powder/dairy products, a key part in delivering on Synlait's strategy.
Q2: What does graduating from the Diploma in Packaging Technology mean to you?
It means a lot as it not only validates my previous experience and knowledge gained over the years, it also complements and build on my knowledge in packaging areas that I may not necessarily have been exposed to previously.
Q3: How will you apply this knowledge moving forward?
I aim to use this knowledge to ensure material choices and packaging designs will always be cost effective, fit for purpose, fulfill end-user requirements and safely deliver products to consumers. Having more knowledge about packaging materials and packing processes will also assist me to educate and promote the best use or elimination of packaging to wider audiences within the business, especially in areas where packaging materials are sometimes challenged.
Q4: Do you have any advice on why other people should complete the Diploma in Packaging Technology?
Packaging materials and the packing processes involved to protect and safely deliver products to consumers is a science on its own. I would definitely recommend this diploma to anyone interested in developing their expertise in this field. The diploma's content covered a wide range of key topics over the full packaging value chain, material selection, packing processes and end-user requirements.
Q5: So where to from here for your career?
Since my completion of the Diploma in Packaging Technology I have been assigned to a major project in our business as Packaging Lead. Towards the end of this project I will have a closer look as to what will be next. I have a keen interest in the areas of consumer product interaction and perception and how it is impacted by packaging, so as to better understand how consumer experiences can be improved and concerns can be addressed through material selection and design.
The Diploma in Packaging Technology is a PIABC accredited Level 5 qualification which is internationally recognised for those wishing to pursue a career in the packaging industry or for those who are already in the industry and who wish to extend their knowledge and expertise.  It has been offered by the AIP continuously for forty years and has an exemplary record of successful students. The Diploma in Packaging Technology prepares students to take responsibility for packaging operations at any level through the supply chain. The qualification is comprehensive, and provides an opportunity to study the principles of packaging, packaging materials and packaging processes. To find out more please contact us.