Five Australian companies and one New Zealand company have achieved international recognition for their innovative and unique packaging designs in the prestigious WorldStar Packaging Awards with Woolpack Australia winning three award categories. The winning companies include Woolpack Australia for Woolcool, SPC Ardmona for SPC ProVital® easy-open portion controlled fruit cup, Fresh Technologies Ltd & Sealed Air Food Care for Fressure™ and Cryovac® Freshness Plus®, Plantic Technologies for the PLANTIC™ R Packaging Material, Pact Group for the rPET Moisturelock Meat Tray and CHEP Australia for CHEP Retail Display Pallets (RDP) and Beverage Trays (BT) who between them took out eight award wins. These awards follow on from their recent wins in the Packaging & Processing Innovation (PIDA) Awards; which are the exclusive feeder program into the WorldStar Packaging Awards for Australia and New Zealand. The WorldStar Packaging Awards will be heading to Surfers Paradise on the 2 May 2018 and will be hosted by the Australian Institute of Packaging (AIP). It is anticipated that over 30 countries will be heading to Australia for the 2018 WorldStar Packaging Awards; which will be held alongside the PIDA Awards; making the event a truly international awards night not-to-be-missed. All of industry is invited to attend the gala awards evening which will be held alongside the biennial two-day AIP National Conference. The 2018 PIDA Awards are now open for submissions and can be accessed through http://aipack.com.au/education/pida/
WorldStar Packaging Awards – Beverage Category
Materials & Packaging Winner = CHEP Australia for CHEP Retail Display Pallets (RDP) and Beverage Trays (BT)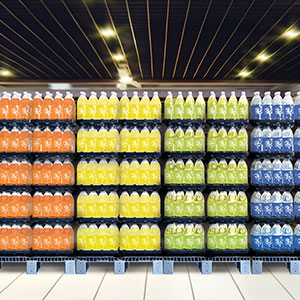 RDP and BT are a unique packaging system in the way that they provide an alternative merchandising solution for the beverage category. A fully stocked RDP can hold 240 bottles of 1.25L soft drink and replaces the 20 cardboard cartons that would normally be required to move them through the supply chain. The RDP can be filled at the manufacturer and then be moved right through to the shop floor and used to display the product as opposed to the traditional shelving that would be used. This improved replenishment efficiency, reduces store labour costs for retailers and improves on shelf availability, resulting in higher sales that benefit both retailers and manufacturers. The CHEP BT demonstrates structural creativity through its unique design features. The top of the tray grips the base of the soft drink bottle while the underside includes unique moulding that encompasses the caps of the bottles beneath it. This system provides fantastic stability that allows the fully loaded RDP to move throughout the supply chain. The slim design also ensures the height of the tray is minimised, which leads to benefits when merchandising product as it doesn't hide the label and maximises exposure of the product to consumers. The trays are also nestable which improves efficiency in reverse logistics when the trays are returned empty from retailers.
---
WorldStar Packaging Awards – Packaging Materials & Components Category + Food Category + Transit Category
Woolpack Australia for Woolcool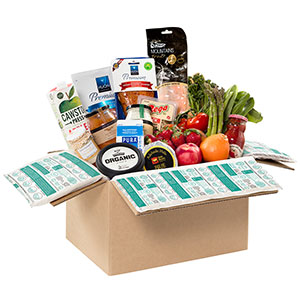 Woolcool aims to reduce oil-based packaging use with an innovative product where the thermal insulation component is waste wool. Woolcool is made of 100% sheep's wool, a renewable resource that is biodegradable, sustainable, natural and compostable. The 'waste' wool they use cannot be used in fashion or in textiles/carpets because it is too coarse, does not produce a comfortable garment and won't absorb dye. This wool has been used for housing insulation products and is now in our innovative packaging solution thatoutperforms other options currently on the market for transporting temperature sensitive goods. Woolcool is an environmentally-friendly product transforming supply chains and is a game changer in high performance packaging options for many different industries (e.g. food, beverage, pharmaceutical). Woolcool cooperated with global wool mills to ensure 25% minimum Australian waste wool content is included in each shipment. It operates two Sydney manufacturing facilities where the product is assembled and distributed. Over 25,000 Woolcool liner units per week are assembled for national distribution.
.
.
---
WorldStar Packaging Awards – Packaging Materials & Components Category
Fresh Technologies Ltd & Sealed Air Food Care for Fressure™ and Cryovac® Freshness Plus®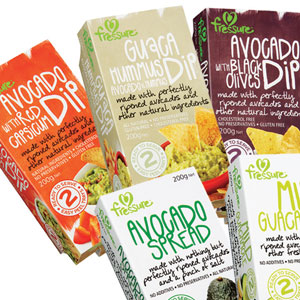 With an alarming 45% of all fruit and vegetables produced globally going to waste, it is clear that addressing food waste is a priority we should all own. The team at Fresh Technologies (New Zealand's largest avocado processor) are playing their part by ensuring their hard-earned avocado harvests are optimally processed and packaged, enabling a waste free supply chain that can span wide enough to support the global growth in avocado consumption. The combination of Fresh Technologies' best in class Cold High Pressure Processing (CHPP) and Cryovac® Freshness Plus® Active Barrier packaging has enabled Fresh Technologies to achieve a chilled shelf life of 90 days, which is a 60-day extension over existing passive high barrier packaging technology. This product is sold into the Food Service industry. The smarts behind Fresh Technologies' Cold High Pressure Processing is not only pivotal to driving extended shelf life, but also delivers high yields – recovering 100% of avocado flesh, leaving only the skin and seed. Avocado in its natural state would last between 7 – 10 days (chilled), but smart processing and packaging technologies have enabled the shelf life. With Avocado consumption growing globally by about 3% every year and are New Zealand's third largest fresh fruit export this innovative technology sets Fresh Technologies apart.
.
---
WorldStar Packaging Awards – Packaging Materials & Components Category
Pact Group for the rPET Moisturelock Meat Tray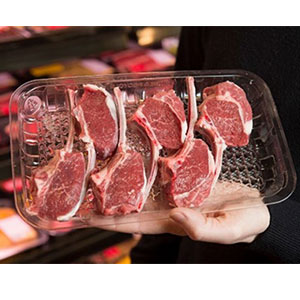 Creating a suitable alternative to the hard to dispose of expanded polystyrene (EPS) meat trays has been a long running environmental challenge. Pact Group developed, designed and manufactured the rPET (Recycled Polyethylene Terephthalate) Moisturelock Tray. The new tray comprises 50% recycled material and is accepted by every kerbside recycling scheme. It is made from clear plastic, not black, so it can be easily separated in the recycling centres. The real innovation however lies in the trays ability to capture fluid in the base. The little 'dimples' in the bottom of the tray hold the fluid there even when tilted or turned upside down, meaning customers don't have to worry about any meat fluids sullying their shopping or having to remove and dispose of the unsightly blood soaked pad prior to preparing their meat. The labour efficiencies achieved through removing the soaker pad equate to approximately 70,000 hours for the meat processor. By moving from EPS trays to rPET Moisturelock, the equivalent of 14 Olympic size swimming pools full of polystyrene are saved from landfill every year and the avoidance of the cost to landfill the community equates to $1.8 million per annum.
.
---
WorldStar Packaging Awards – FOOD Category
Plantic Technologies for the PLANTIC™ R Packaging Material

The growing trend of consumer awareness towards the impact of their actions on the environment has seen Plantic Technologies successful in developing and commercialising ultra-high barrier bio-plastic materials. One of the ranges of materials PLANTIC™ R has many unique features, ultra-high barrier, renewably sourced, high clarity and certified. PLANTIC™ R material is utilising the best of Plantic bio based high barrier material with PET to create a material that is globally unique. PLANTIC™ R material is manufactured using modern technology where thin layers of Polyethylene Terephthalate (PET) are adhered to a core layer of renewably sourced, ultra-high barrier PLANTIC™ HP sheet. The PLANTIC™ HP core provides exceptional gas barrier and the PET provides moisture/water vapour barrier to the structure. PLANTIC™ R is very versatile and suitable to most thermoforming and tray sealing applications. The renewable content can be altered to meet specific requirements. Among the unique features of PLANTIC R™ include: Recyclable High Barrier Pack, High renewable content, Outstanding gas barrier performance, Excellent barrier to taint and odour, Sealable to PET based lidding films and Excellent surface gloss.
.
---
WorldStar Packaging Awards – FOOD Category
SPC Ardmona for SPC ProVital® easy-open portion controlled fruit cup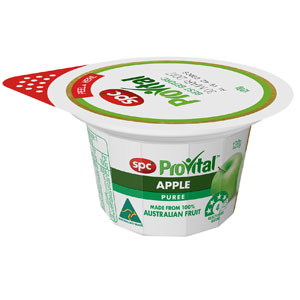 The development of the SPC ProVital® easy open portion controlled fruit cup range represented SPC Ardmona's commitment to being at the forefront solving the accessibility issue within healthcare. The SPC ProVital® range of fruit cups were specifically designed with easy open packaging, which was developed using the guidelines established by Georgia Tech and Arthritis Australia, to assist with designing products that all consumers can open, including those with reduced fine motor skills, dexterity and strength. SPC Apple ProVital® Puree was ISR tested and received Arthritis Australia's +8 accessibility rating. This is the highest possible rating and predicts that 95% of the population can open the SPC ProVital® fruit Cup easily. The SPC ProVital® fruit cup range has also passed Georgia Tech's 'ease of use' consumer testing, which validated the ISR result. SPC Ardmona's existing fruit cup had previously received an accessibility rating of 0. The marked improvement in accessibility score indicates per the guidelines that 20% more of the population are able to open the product easily without assistance and without the help of a tool. Given this 20% increase in general population accessibility of the fruit cup, the SPC ProVital® easy-open cup should contribute to reducing food waste generated as a result of inability of patients to independently open their food. Responsible use of packaging incorporated in this project includes the use of recyclable materials including the cup and shrink sleeve label. This project which involved collaboration with multiple different suppliers across the globe, ultimately benefits the greater good by directly addressing a key issue facing Australia's rapidly ageing population of accessibility while also improving efficiency for healthcare institution by reducing food waste.
---