On Monday 24th August, 2020 Zipform Packaging welcomed the Honourable Dave Kelly, Minister for Water, Youth, Forestry, Science and Innovation and ICT to their Canning Vale, WA plant.   Minister Kelly was joined by Emma Collyer, his Senior Policy Advisor.  The visit was part of a Community Cabinet series of visits to local organisations and businesses.  Zipform Packaging was chosen as in June of this year they had been awarded a WA Funding Voucher for Innovation for their rPump development.
.
rPump is a new innovative solution to have a reusable pump assembly combined with a recyclable primary and refill pack (a standard Zipform Packaging linear-formed composite pack).  More of this later……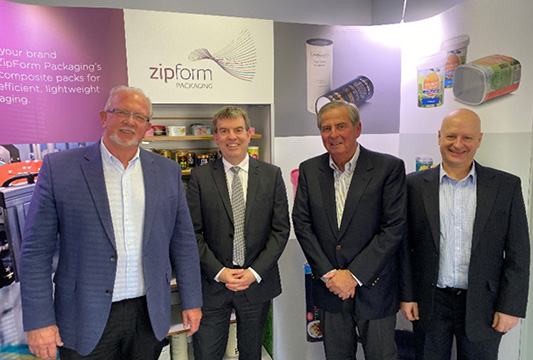 Above from left to right: David Kilpatrick – Zipform Packaging's Innovation, R&D, Technical and Quality Director / Minister Kelly / David Edwards – Zipform Group Chairman / Eddy Pahor – Zipform Packaging Commercial Director.
.
We were pleased to be able to tell Minister Kelly the story of the business development from the early days of SOTA Packaging to the latest evolution as Zipform Packaging.  During the tour round the BRC AA accredited facility Minister Kelly was given a demonstration of the linear forming process and was briefed on the sustainability credentials of this innovative form of packaging.  Zipform Packaging showed the large variety of packs now on market and it was a great opportunity to share some of the innovations in progress.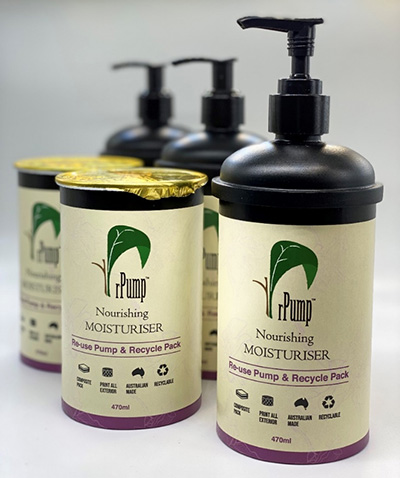 rPump was obviously the key innovation that brought Minister Kelly to the plant and Zipform Packaging is excited by the opportunities this new pack format could offer.
.
"I first came up with the rPump concept when I realized the virtual impossibility of recycling the pump dispenser component and that components which are separable would provide more options for recovery and re-use" commented David Kilpatrick.
.
Minister Kelly commented, "With very limited recyclable 'refill pack' options currently available, this locally developed and manufactured product, will offer a sustainable packaging alternative for companies and enable them to meet their APCO commitments.
.
It was great to see first-hand how the IVP is helping a Western Australian company to not only grow and create local jobs, but also make a difference to the environment."
.
The use of non-recyclable plastics has been increasingly in the spotlight since APCO's announcement of the 2025 National Packaging Targets as brand owners and manufacturers alike grapple with the challenges of recycling problematic materials and products.
.
One such product which is widespread throughout retail shelves is the traditional pump style pack which typically consists of a plastic base and a screw-top pump assembly fitted for dispensing the product.  The challenge with the existing format is twofold:
The base pack is typically in a non-recyclable coloured PET bottle with the addition of a label
The pump assembly which, due to its size and complex combination of multiple materials is also non-recyclable
Zipform Packaging approached this challenge true to their mantra "more paper, less plastic" by creating the Zipform Packaging rPump; a world first innovation that takes the Zipform composite pack to create a perfect combination of recyclable and reusable packaging utilising three components.
Primary Pack and Refill Pack – a curbside recyclable pack comprising of >90% fibre and >60% recycled content
Connecting Neck Assembly (PCT Patent Pending) designed to press fit and seal to the rim of the composite pack
A threaded Pump Assembly as would be found on existing pump packs
With the neck and pump assembly components being reusable components, the consumer simply discards the composite pack and reuses the remaining plastic components on a refill pack hermetically sealed in a Zipform Composite Pack to be retailed separately.
A great combination of Reuse and Recycle
If you want any more information on Zipform Packaging or rPump please visit the website www.zipformpackaging.com.au or contact Nicholas Payne, Business Development Manager nicholasp@zipformpackaging.com.au