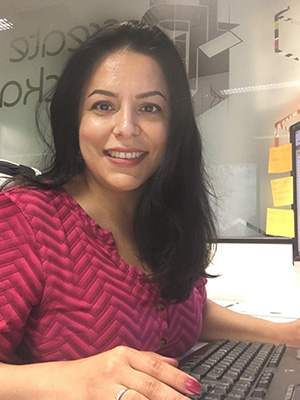 The AIP President's Scholarship which has been designed to work in collaboration with the ABA program is to help one additional person undertake either a Certificate in Packaging or a Diploma in Packaging Technology each year.
2022 AIP President's Scholarship winner is Azadeh Yousefi AAIP, Packaging Designer, Production Packaging Innovations with the decision to offer Azadeh a Diploma in Packaging Technology scholarship.
Having faced many challenges and barriers in her life Azadeh Yousefi came to Australia due to her strong passion to become a part of the packaging industry in which she is qualified to work in.
Sadly, the country she came from has a typically male-dominated industry and women do not have the chance to grow in the field they are educated in, even though Azadeh is University qualified, with a bachelor's degree and a master's degree in Industrial Design. She also loves teaching and used to be a full-time lecturer at the Art University in the Industrial design department in her country.
Azadeh found it impossible as a female to become a respected Packaging Technologist in her country making the difficult decision to leave her country a few years ago for a new start.
Since moving to Australia Azadeh enrolled and graduated from the Master of Food & Packaging Innovation Degree, is now employed by Production Packaging Innovations, was recognised last year in the PIDA Young Packaging Professional Award and has been instrumental in several of the packaging designs that were winners in the 2022 Australasian Packaging Innovation & Design (PIDA) awards.
Azadeh has started to thrive in her professional career since landing in our country and she represents the future of this industry.
AIP President, Jason Fields FAIP, CPP, said that 'he is extremely proud to honour Azadeh Yousefi AAIP with the AIP President's Award for 2022.'
Please join with the AIP in congratulating Azadeh for the 2022 Scholarship and the Institute wishes her well with her studies.