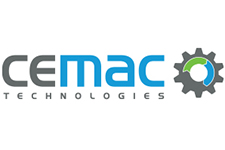 The AIP would like to take this opportunity to welcome our newest Corporate Partner CEMAC. CEMAC share with the AIP more about their solutions and how they can help companies like Sancell. Since establishing in 1988, Sancell has soared to the forefront of the packaging industry as a leading manufacturer of residential and commercial insulation, bubble and foam wraps, cold chain solutions, and padded mailers. Their high quality products are versatile from industrial to household use, captivating customers across Australia and Asia Pacific.
In early 2022, Sancell embarked on a mission to further reduce their environmental impact by expanding their in-house recycling capabilities. Their main goal was to reduce the intake of virgin polymers, minimise waste sent to landfill and introduce more sustainable products to the market.
Sancell's Continuous Improvement Manager, Davor Galista, reached out to CEMAC technologies, the renowned Australian distributor of PLASMAC machines. Through evaluation of FOAM waste samples, it became evident that the PLASMAC Alpha 45 side trim repelletising machine was the best solution for Sancell's needs.
This newly developed model runs quietly, has a small footprint, and matches Sancell's throughput of just 90kg per day – a pace that most machines find challenging to match. Davor could not be happier with the choice of PLASMAC.
Not only is it affordable, but it also upholds high safety standards, offers great reliability, and requires easy maintenance.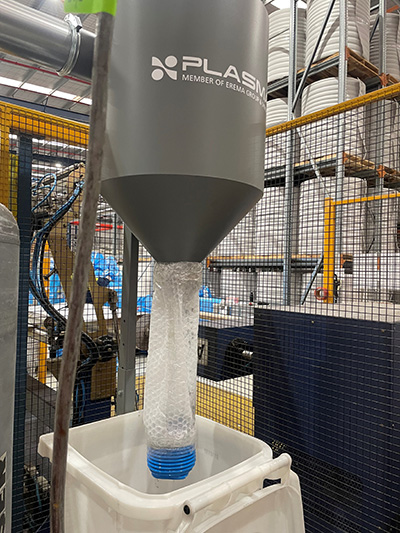 Today the PLASMAC machine is installed right next to Sancell's FOAM extrusion line where the side-strips are fed directly into the intake feeding chute of the PLASMAC Alpha 45 recycling machine. With no fine-turning required, the machine began operating flawlessly from day one.
PLASMAC's Alpha machines have the highest output per installed power in the market, ensuring low running costs and a rapid return on investment for Sancell. It's direct extrusion design eliminates the need for prior size reduction, allowing Sancell to feed trims directly into the extruder. The Alpha's Short Screw Technology, a short shear and low melt temperatures guarantee absolute minimum material degradation.
These pellets are then air-dried and conveniently collected just a few meters away, completing the recycling process efficiently.
By prioritising low waste and recycled content, Sancell has made remarkable strides in their business model. In 2023, Sancell proudly increased the recycled content in their Standard Bubble, Silver Sheen Thermal Liners and Bags, and Armour Padded Mailer Bags – to an impressive 50%. This includes a blend of 25% post-consumer and 25% post-industrial recycled materials, both locally sourced. Their commitment to in-house recycling has not only significantly reduced waste disposal volumes but has also resulted in substantial cost saving benefits.
When asked about the overall experience of securing the new PLASMAC machine, Davor stated "There is nothing I would change. Everything went very, very well from the first minute. CEMAC technologies did their research thoroughly and understood what was needed".
CEMAC technologies is the Australian Distributor of the world leading plastics recycling machinery suppliers PLASMAC and EREMA. Offering experience and expertise in plastics recycling from in-house applications right through to post-consumer materials.
t   +61 (0) 3 8400 6066 |   w cemactech.com
---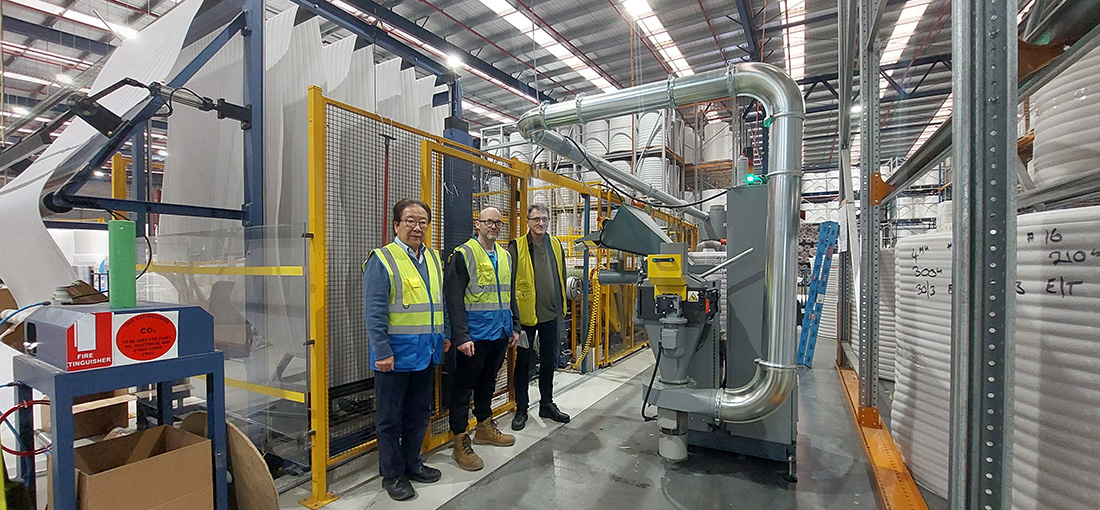 ---
 CEMAC technologies Jonathan Tan and David Goggin with Davor Galista, Sancell.