Written by Karl Deily, President Food Care, Sealed Air: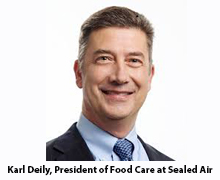 This world wastes an astonishing amount of food. About one third of all the food that is produced is wasted. A 2011, United Nations' Food and Agriculture Organization (FAO) report estimated in 2007, 1.6 billion tons of food was wasted. As a comparison, 6 billion tons of food was produced globally that year. The United States alone spends $218 billion a year growing, processing, transporting and disposing of food that is never eaten.
We know food waste impacts the environment and the world, but it also impacts the economy costing consumers the most. There is clear economic value in preventing food waste. Farmers, companies and retailers alike can save resources and have a positive impact on the economy.
ReFED, a collaboration of over 30 business, nonprofit, foundation and government leaders committed to reducing food waste in the United States, has established a movement around this very topic. By creating a core economic model to understand the true cost of waste and the most cost-effective ways to reduce food waste, the organization has identified 27 opportunities that could generate $10 billion of economic value, $5.6 billion annual consumer savings and $1.9 billion annual business profit potential.

.