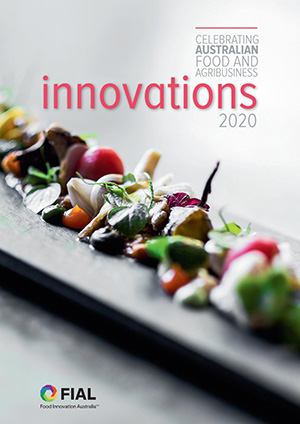 Food Innovation Australia Ltd (FIAL) has recognised 40 businesses from across the Australian food, beverage, packaging and agribusiness sectors in the fifth edition of its innovation book.
Each year the Australian Institute of Packaging (AIP) collaborates with FIAL to develop the book, nominating Australasian Packaging Innovation & Design (PIDA) Award winners. For the 2020 edition 7x PIDA winners have been recognised in the 40 businesses and include: Flavour Creations, Plantic Technologies, Detpak, Impact International, Metalprint, SPC and Stay Tray.
This latest edition highlights the incredible work Australia's food clusters are doing to support the industry to innovate, particularly in light of the COVID-19 pandemic and the importance of the food industry to the country.
View product and packaging innovations from over 40 Australian businesses and learn more about some of Australia's most successful food clusters.
Celebrating Australian Food and Agribusiness Innovations.
The PIDA Award winners are on pages 43 to 52 in the Innovation Book.
https://issuu.com/westwick-farrowmedia/docs/fial_innovations_2020
.
.