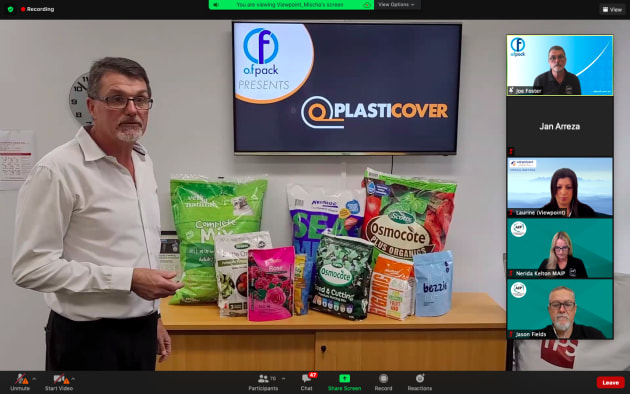 AIP members were privy to a virtual tour of OF Packaging's local flexible packaging converting facility based in Carrum Downs, Victoria, which delivers flexographic print packaging solutions primarily to the horticulture, pet food, produce and bakery markets through its local Plasticover business segment.
Through the tour, participants gained a better understanding of the entire manufacturing process for flexo-print, large-format packaging, and viewed the important aspects of production, which ensures the best outcomes for packaging made in Australia.
The facility highlighted in the tour is the company's only local manufacturing and converting site for flexographic printing, laminating, bag making, slitting and pouch making.
Participants were taken on a detailed walkthrough of the flexographic central-impression printer and colour management services that are available on-site, as well as both solvent-free lamination and film slitting machinery.
As for the printer used, OF Pack incorporates a flexographic printer machine, which is a 6-colour, central impression machine, meaning each printing station is mounted onto one central drum, compared to the old conventional style of stacked pressing.
"When you look at the converting process for flexo packaging, it is not an easy process where you just have to press a button, and there are some processes that we have to follow in order to produce a finished pouch or bag," says Joe Foster, co-founder and managing director, OF Packaging.
"There is quite a number of steps involved in the process, and each one of these steps requires a high level of expertise and knowledge to ensure the best outcomes for each individual job.
"We have to start with the artwork process, then the film is blown before going through the printing process, which we then have to inspect, before sending it off for lamination. From here we go on to slitting then to the finishing section where we make the product."
Courtesy of PKN Packaging News
www.packagingnews.com.au