The Certified Packaging Professional (CPP) designation for the industry is offered exclusively through the Australian Institute of Packaging (AIP) in Australasia, the Certified Packaging Professional (CPP) designation is the leading mark of excellence internationally and a must-have recognition of industry proficiency and achievement for packaging professionals.  CPP credential demonstrates that a packaging practitioner possesses packaging knowledge, experience and skills to the degree that they deserve recognition as a true packaging professional; a cut above their peers.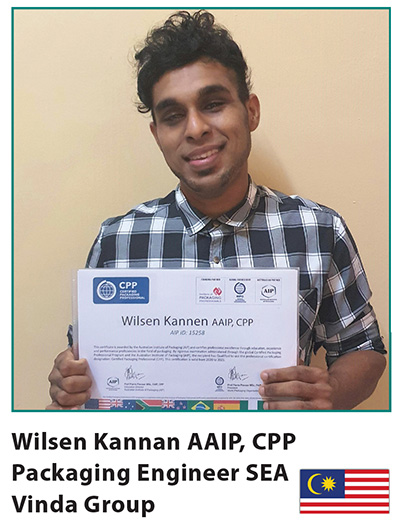 The AIP asked the latest CPP, Wilsen Kannan AAIP, CPP, Packaging Engineer, Vinda Group Sea a few questions about his career, packaging education and why the Certified Packaging Professional (CPP) designation is so important for the industry.
Q1: How long have you been in the industry?  What are your areas of expertise?
Wilsen:
I have been in the industry for almost 4 years in the manufacturing of hygiene products and especially in the packaging department. My area of expertise would be more on Primary, Secondary packaging, Material  and Processes
Q2: What made you apply for the Certified Packaging Professional (CPP) Designation?
Wilsen:
Before pursuing the CPP, I was a CPIT, knowing that packaging would play a key part in sustainability in the future.  My thirst for knowledge and Innovation has led me to get more involved in the Australian Institute of Packaging Training courses.  I decided that the only way for me to explore more on packaging knowledge around the world was to attain the Certified Packaging Professional Designation and the rest was history.
Q3: How important is attaining the CPP designation to you as an individual?
Wilsen:
To me, attaining the CPP was very important, it shows that I am someone who is genuinely interested in Packaging .  It is also a personal goal of mine to have my country be part of a Global Certified Programme and be known for Packaging Education and Technology one day.
Q4: How important is the CPP designation for the greater recognition of people in the packaging industry?
Wilsen:
The CPP title should not be taken lightly around the Globe, it provides you the right knowledge and skills to be applied to the industry. Those who attained the title are professionals who are keen to make an impact in the packaging industry.
Q5:  Were there any new learnings or takeaways that you gained from the experience?
Wilsen:
The journey to attain the CPP was a fruitful journey as I needed to apply the knowledge that was attained in real life situations.  It gives you excitement to put theory into practice.  Along the way, I have met many wonderful professionals around the world, experts in their own game.  For me at the moment, packaging knowledge is endless.
Q6: What next for your career?
Wilsen:
Next  in my career, would be exploring Packaging technology in different regions and be more involved in the  Packaging community.  If all goes well, the CPPL title would be the next adventure in years to come.
Contact the AIP today to find out how you can become a Certified Packaging Professional. info@aipack.com.au