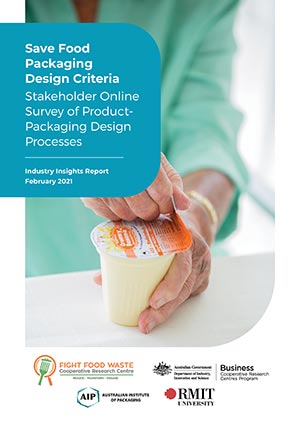 Australia's first industry insight reports for the Save Food Packaging Design project as part of the Fight Food Waste CRC have been released by the Australian Institute of Packaging, in partnership with RMIT. AIP executive director Nerida Kelton shares the key findings.
Australia is one of the worst offenders for food waste and loss in the world with a staggering 34 per cent (2.5 million tonnes) of all food wasted in the household, followed very closely with 31 per cent (2.3 million tonnes) in primary production.
In economic terms, food waste in Australia has become a $20 billion problem that sees each person waste on average 298 kilograms of food a year. Add to that the environmental impacts that sit behind food production including water, land, energy, labour, capital and the fact that far too much food waste is heading to landfill and creating greenhouse gas emissions.
Australia needs to build a sustainable food system that delivers food security, considers social, economic and environmental impacts and no longer sees food waste heading to landfill. This is where innovative Save Food Packaging (SFP) design has a role to play within the food supply chain.
What is Save Food Packaging?
Save Food Packaging (SFP) uses innovative and intuitive design features that can contain and protect, preserve, extend shelf life, easily open and reseal, provide consumer convenience and portion control – all the while meeting global sustainable packaging targets.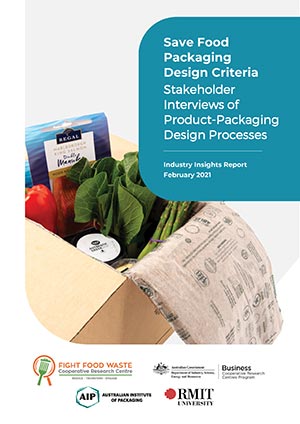 To embed SFP design into businesses we first need to understand whether manufacturers consider food waste and loss, how packaging technologists are designing food packaging, if marketing is ensuring that on-pack communication provides the best messaging to consumers, and what the barriers are to implement SFP strategies.
As a core participant of the Fight Food Waste Cooperative Research Centre, the Australian Institute of Packaging (AIP) Save Food Packaging Design project has released two stakeholder industry insight reports in partnership with RMIT and the Save Food Packaging Consortium* that will help to set a baseline for current design practice and enable a path forward for areas of improvement.
[*The Save Food Packaging Consortium is made up of the Australian Institute of Packaging (AIP) as project lead and RMIT as the Research Partner; Project Contributors are ZipForm Packaging, Sealed Air, Multivac and APCO; Project Partners are Plantic Technologies, Result Group and Ulma Packaging; and the Extension Network consists of Australian Food Cold Chain Council (AFCCC), Australian Food and Grocery Council (AFGC) and the Australian Institute of Food Science and Technology (AIFST).]
These reports represent the current landscape of the food and packaging industry regarding perceptions and practices of food waste and SFP.
Courtesy of PKN Packaging News
www.packagingnews.com.au