The winner of the inaugural Packaging New Zealand Scholarship was announced in front of 500 people during a gala awards dinner for the global packaging community at the Marriott Hotel Surfers Paradise, Queensland. The gala dinner was a joint event between the 2018 PIDA Awards and the international WorldStar Packaging Awards with 30 countries in attendance on the evening.
The inaugural winner of the Packaging New Zealand Scholarship is Jaco Scheepers, Packaging Technologist, Synlait Milk. Jaco has always had an interest in polymer materials, additives and plastic conversion processes, especially in flexible packaging materials. During grocery shopping and where possible elsewhere, he regularly looks at different packaging types to satisfy his natural curiosity of materials and packaging. He has learned that the integrity, quality or shelf-life of a product is directly linked to correct material choice and design of the packaging configuration. Jaco would like to broaden his knowledge across a range of different packaging materials, which will help allow him in years to come to develop with the Packaging Team at Synlait Milk great new and hopefully award-winning consumer packaging products that are both environmentally friendly and made from sustainable resources.
Packaging New Zealand, in conjunction with the Australian Institute of Packaging (AIP), run the annual scholarship program for New Zealand to be able to offer a packaging technologist, designer or engineer, the opportunity to complete a Diploma in Packaging Technology to the value of over $9000. Please join with the Packaging New Zealand and the AIP in congratulating Jaco Scheepers on his scholarship.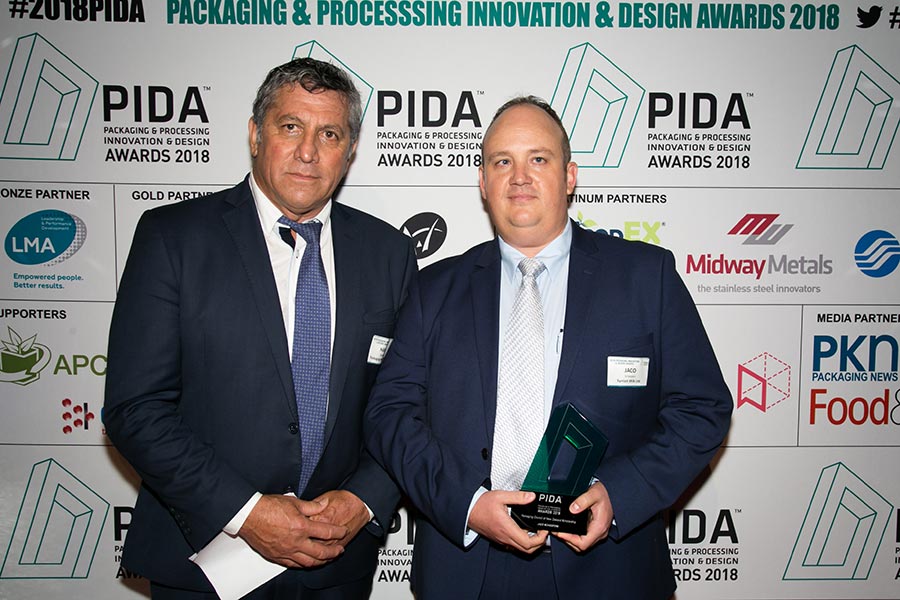 Packaging New Zealand President, Harry Burkhardt presents Jaco Scheepers with 2018 Diploma Scholarship award.