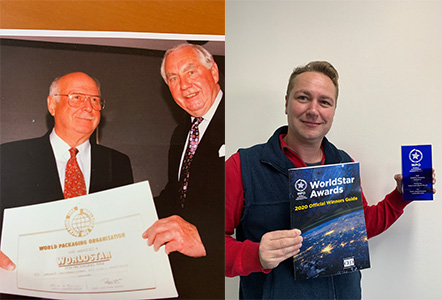 Impact International was awarded a WorldStar Packaging Award for the Sarah, Craig and Margorie 100% recycled PE and sugar cane PE tubes in the Health &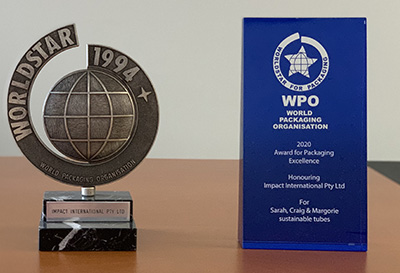 Personal Care and Aleks Lajovic, Managing Director, Impact International shared his views on what winning a WorldStar Packaging Award means to him and his family business.
When you work in a family business, it is not only financial results that drives you. It is the history, the protection of the legacy and having something to pass on to the future generations. It is about having a team that you see as extended family members and friends and not just employees.
My grandfather (Starrapapa) won our first WorldStar Packaging award back in 1994 and sadly it has been less than two years since he passed away.
Receiving Impacts second WorldStar Packaging award in 2020 is one of my proudest moments since becoming the 4th generation to work at Impact International. The international award ceremony was meant to be at Interpack (Düsseldorf) in May but unfortunately was cancelled due to Corona virus, so  we no longer have the huge international awards night to celebrate with other winners from ANZ and across the globe.
But the best part for me  is having Impact win the same prestigious award that my Starrapapa won 26 years ago when he was responsible for running the family business. This one is for you Starrapapa.
Impact International was one of the 11x Australian and New Zealand companies that have been internationally recognised in the prestigious WorldStar Packaging Awards, which are run by the World Packaging Organisation. Winners from Australia and New Zealand also received the third highest amount of WorldStar Packaging Awards in the world behind Japan and China. This is an incredible recognition for the annual Packaging Innovation & Design (PIDA) Awards program which is the exclusive feeder program for the two countries into the WorldStar Packaging Awards.