APPMA Annual Scholarship for a Diploma in Packaging Technology.
The APPMA, in conjunction with the AIP, have been running the annual scholarship program for eight years now giving a packaging engineer, the opportunity to complete a Diploma in Packaging Technology to the value of over $9000..
.
* 2017 Applications opening late 2016….
---
Save Food Packaging Awards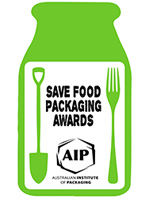 The Australian Institute of Packaging (AIP), in conjunction with the World Packaging Organisation (WPO), has established the Save Food Packaging Awards for Australia and New Zealand, that recognises companies who are developing innovative and sustainable packaging that minimises food losses and food waste, extends shelf life and improves the supply of food.
Packaging's role in reducing food waste is the next challenge for Packaging Technologists, Designers and Engineers.
ARE YOU UP FOR THE CHALLENGE?
.
---