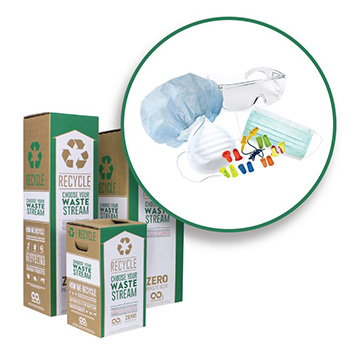 This year has unfortunately been characterised by a significant increase in the use of protective clothing such as facemasks, disposable garments and gloves.
PPE used to be the domain of businesses such as food manufacturers, but now most organisations have stocks of these single-use items on hand for staff and visitors alike. In fact across the world we are now using 129 billion face masks and 65 billion plastic gloves every month, according to some estimates.
The WWF said that if even only 1% of the masks were disposed of incorrectly, this would result in 10 million masks per month dispersed in the environment. Considering that the weight of each mask is about 4 grams this would result in more than 40 thousand kilograms of plastic in nature.
Unfortunately this appears this is the case. Images of masks washing up on beaches and affecting wildlife are becoming more common.
TerraCycle is keen to do its bit to keep the planet healthy during this time, and ensure that PPE waste stays out of landfill. Zero Waste Boxes offer an eco-friendly solution to dispose of more than 100 products such as gloves, disposable garments, hairnets, face masks and earplugs.
You simply purchase the box online, then send it back when full (the price includes delivery and return postage). General Manager for TerraCycle Australia & NZ, Jean Baillliard, said at this time where people are using more disposable items than usual, it is especially important to remember to recycle.
"Our Zero Waste Boxes have always been popular with small businesses, however with the increasing use of PPE, we're keen to ensure recycling remains a top priority during COVID-19.
"In fact, this could be a great time to revisit your business's recycling processes to ensure we are not faced with a huge waste problem when life returns to normal," he said.
More information on TerraCycle's PPE Zero Waste Boxes can be found at https://zerowasteboxes.terracycle.com.
au/collections/personal-protective-equipment or contact ulani.parsons@terracycle.com.
Please note biomedical, infectious or pathogenic waste is not accepted in Zero Waste Boxes.