The Australian Institute of Packaging (AIP) is pleased to announce that Diploma in Packaging Technology student Marian O'Leary MAIP, was recently awarded the Melbourne Business Awards 'Young Achiever' Award. Marian is currently employed as the Quality Manager at RollsPack and has been a critical part of their Quality Assurance and production quality controls; both for locally made goods and overseas made products.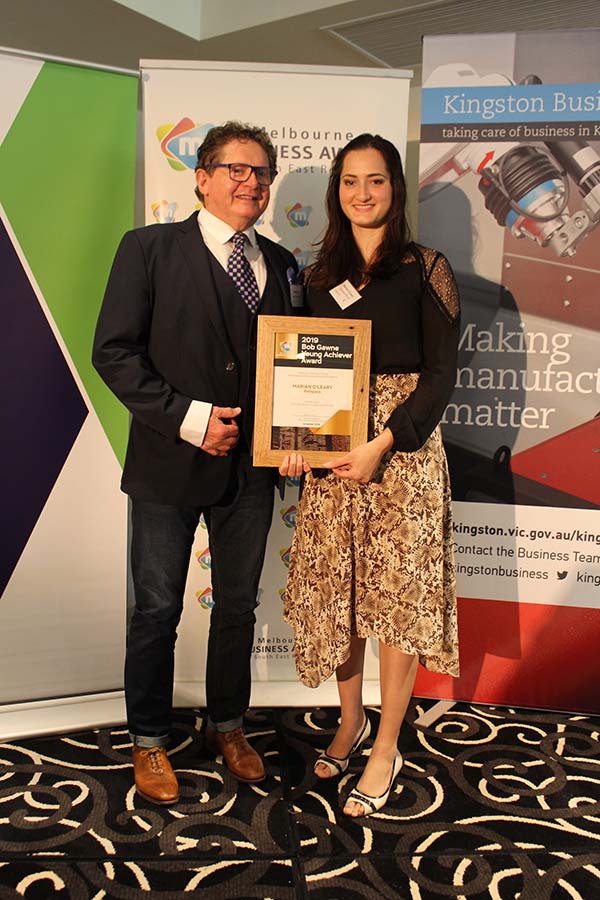 As a part of the award Marian was asked a few questions about her role and her career aspirations…
How do you demonstrate excellence in your workplace?
"Maintaining customer satisfaction is core to the way I approach the job. I do this by ensuring the lines of communication with customers are open as well as providing feedback on issues raised. Being able to communicate effectively internally is also particularly important when dealing with production departments to get them on board in recognising gaps in our processes, and thinking about how to overcome quality issues, then being able to translate our continuous improvements on paper,"
"I value the input different members of our team have in the workplace and I demonstrate this by ensuring I am approachable and by treating everyone respectfully. I am eager to learn and continuously improve, and this has helped when facing new issues or starting new projects."
What are your career aspirations? Where do you see yourself in 5 years' time?
"I would like to play an active part in the development and implementation of sustainable packaging, particularly in the food packaging industry. This would involve changing over from current plastic structures that most often cannot be recycled to ones that are made from recyclable raw materials and provide the same barrier functions and attributes,"
"I am currently undertaking a Diploma in Packaging Technology through the Australian Institute of Packaging (AIP), which will provide me an in depth understanding of packaging process and materials. This together with the industry experiences I am exposed to will provide a strong foundation that I can build on to help develop environmentally friendly packaging that is also financially sound,"
What do you believe is the most significant contribution you have made to your company?
"The most significant contribution I have made to RollsPack is leading the company on the way to obtaining a food grade certification (FSSC 22000). This is an international food safety standard that would increase visibility of our food safety practices, as well as accountability for our internal processes to ensure we are producing consistently good quality and food safe packaging,"
"Preparing for this certification has involved working with the production team to establish and improve internal quality auditing systems, rewriting the hazard analysis plans for the site (leading to improved visibility and control of food safety risks and vulnerabilities), introduction of a cleaning regime for the manufacturing floor and introduction of approved contractor programs,"
Why do you believe you should be chosen as the 2019 Melbourne Business Awards Young Achiever?
I believe I am a worthy recipient of the 2019 Melbourne Business Awards Young achiever as it would enable me to showcase the values of innovation and constant learning instilled in me through working at RollsPack. This would also act as an acknowledgement to the consistent work ethic and aspirations I have to play a bigger role in the packaging industry.
Please join with the AIP and RollsPack in congratulating Marian on this wonderful recognition.