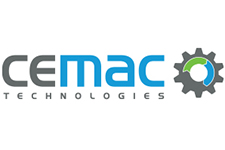 The AIP would like to take this opportunity to welcome our latest corporate partner Cemac Technologies. Cemac Technologies are a distributor of Plasmac in-house recycling solutions.
As a stretch film plastics producer, using an old cutter compactor system to recycle trim scrap significantly reduces the output. Plasmac's extruders can solve this problem by increasing the blown line speed with an energy efficient system.
Ever since its foundation in 1994, Plasmac helps plastics processors to effectively recycle post-industrial in-house production waste. The rapidly growing company possesses unrivalled expertise in edge trim recycling and Plasmac extruders allow processors to use 100% of their purchased polymer. Today, hundreds of Plasmac's systems are installed worldwide and with the backing of both the SYNCRO Group and EREMA Group, Plasmac is a major player in the recycling industry.
As an example, Plasmac proposed the Alpha 70 AC system to solve one manufacturers problems with the old cutter compactor system, which was resulting in reduced blown line speed and housekeeping issues due to dust from the recycling process.
This extruder is not only a high efficiency, low energy system, but it also allows for a minimum of operator interface. This minimum is ensured by a simple-to-operate control system, automatic feeding of the flake feeder and the ability to feed the repelletised material back into the customer's automated factory feed system.
Plasmac's unique short screw technology makes their machines one of the most efficient on the market. Because of this technology, less heat is used pelletise the material, which ultimately leads to less degradation of- and less shear in the material. As a result of the increased blown line output, the customer has a return of investment in less than 12 months.
In the end, Plasmac supplied the customer with a compact, efficient, standalone system, that is capable of recycling trim scrap into pellets which are similar to virgin material. The customer concludes: "Plasmac have gone above and beyond to support us, justifying our decision to purchase from them."
---