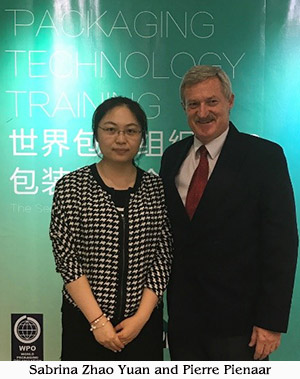 A year later the AIP, supported by the WPO and CEPI (China National Export Commodities Packaging Research Institute, full member of WPO) was back in China to train. There were 54 attendees, made up from industry as well as academia (lecturers) from various universities in China involved in Packaging Design or Packaging Graphics. We used the facilities of a Sechuan University, in Chengdu. Chengdu, the home to 15 million people is situated in south western China, famously known for the panda bears. This university offers a 4 year under graduate degree in Packaging Design through their Arts Department and is considered to be number 8 in the top universities in China. It has 80 000 students and the university is 126 years in age.
More than ever before it was evident that there is a need as well as a desire for many across the globe to learn more in the science and technology of packaging. It was an exciting packaging training week in Chengdu. The students were eager to learn and we fortunately had access to a professional Chinese / English translator, which made lecturing so much easier. Mr Rainer Yu, was especially good with speed as well as the technical aspects and conveying to the trainees correctly and accurately in an understandable way. The standard of students' ability to grasp the information was high and feedback was good. The university was most supportive in offering their facilities and are keen to welcome the WPO back next year. The University during the week conferred Pierre Pienaar as an Associate Professor in Packaging Engineering and Technology.
Although this recent Packaging Technology training covered the entire spectrum of packaging technology, the students seemed very keen to learn as much as they could regarding the materials of packaging and in particular laminates as well as what their packaging counterparts were doing in other countries and how they can improve packaging of foodstuffs to reduce wastage. There were numerous questions and discussions regarding the interface between graphics in packaging and packaging materials and how best to integrate them both to seek the ultimate for both aspects.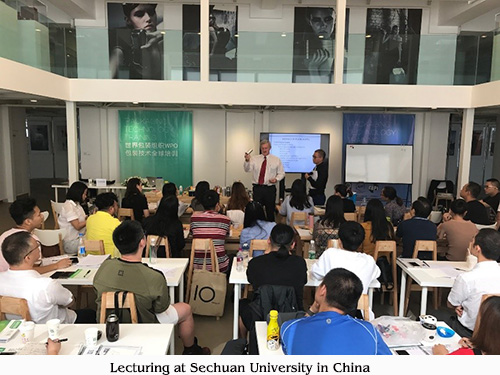 As part of the training program, we visited a state of the art glass manufacturing company, as well as one of China's largest and up-to-date board printing facilities. This proved really fascinating as the trainees were keen to see and experience first-hand where they could apply what they were learning in lectures.
A special word of thanks to Sabrina Zhao Yuan for an excellent job of taking the reins and making it happen, well organised and superb attention to detail. I foresee a huge opportunity in China for the AIP/WPO to work with CEPI in not only training more people from industry in the topic of packaging but to enhance the growth opportunity and develop packaging to ensure a better quality of life through better packaging for more people.
Written by
Prof Pierre Pienaar FAIP, CPP
AIP Education Director
WPO Vice President: Education
September 2017