AIP members visit Australia's global leader in supply chain solutions
Article by AIP Members; Joanne Cockerill Dip. Pkg. Tech. MAIP CPP and Yathin Naidoo MAIP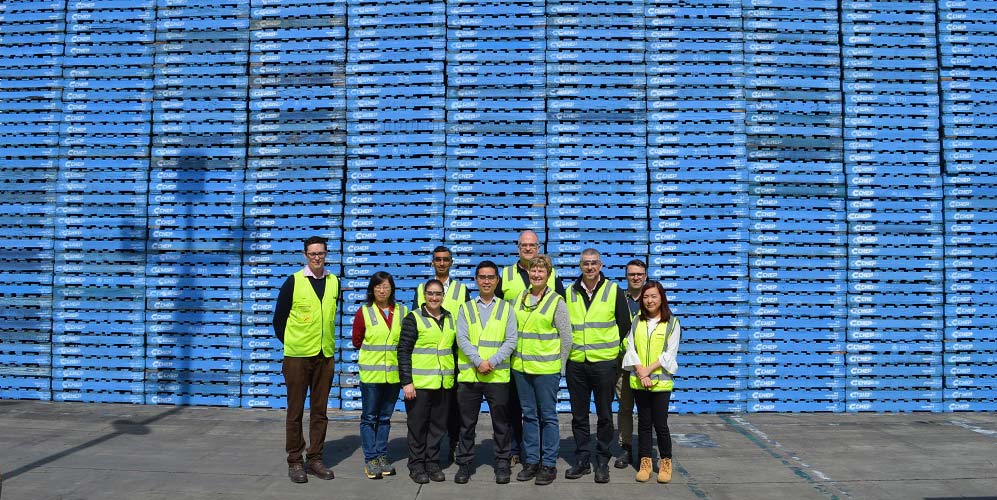 On Thursday 6 September 2018, a small group of Australian Institute of Packaging (AIP) members attended a site tour at CHEP's Service Centre in Erskine Park, Sydney.
Hosted by AIP at CHEP's Service Centre in Erskine Park. Lachlan Feggans, Senior Manager, Sustainability for CHEP; and Mathew Karbowiak Service Centre Manager, provided the group with the opportunity to learn more about CHEP's pallet reconditioning operations, the role of CHEP's National Logistics Control Centre; and the value CHEP provides through the circular supply chain.
Joanne Cockerill, AIP Central Region Chair, said, "CHEP's focus on safety is impressive, with key recent actions including redesigning the flow of its site operations to reduce the number of vehicle to people crossings from over 20 down to three, and pre-shift exercise warm-ups reduced strain injuries.
"To reduce manual handling risks, the conveyors have been updated to turn pallets around and over to eliminate heavy lifting of pallets by the operators. The speed of the maintenance and quality checks of each pallet was impressive, both manually and automatically.
"A highlight of the tour was the accuracy and level of the detail the pallet sensors had to be able to pick up when packaging remains on the pallet. We learnt that CHEP Australia continues to leverage global best practise." said Ms Cockerill.
Just this week CHEP picked up two awards at the Australian Packaging Covenant Organisation (APCO) Awards; the 2018 Outstanding Achievement in Sustainable Packaging Operations and also the Logistics Industry Sector Award.
Mathew Karbowiak provided a tour of site operations and the National Logistics Control Centre system, which uses detailed real-time information from multiple sources, including video feeds from CHEP yards and live network data to predict whether a delivery of CHEP equipment will be impacted by events in the network.
"Using our data, network, expertise and knowledge in logistics management, our team designed a sophisticated logistics management system that improves the level of service we can provide our customers.
"The Logistics Control Centre not only provides a greater level of network visibility, but also features mechanisms to help manage issues as they arise. If a delivery is impacted by issues such as traffic congestion, the system triggers an alert which assists the team in proactively managing the situation. In the event of a delay, the team is significantly better enabled to quickly contact customers with a new expected delivery time." said Mr Karbowiak.
Attendees had the opportunity to learn more about the CHEP sustainability model
and goals. Lachlan Feggans presented the numerous sustainability projects CHEP has achieved with their partners, one of which is the partnership with Foodbank.
Some of these projects include delivering on zero product waste to landfill, 100% of CHEP Australia's wood is sustainably sourced, and an end of life recycling program by sharing and reusing CHEP platforms. Through this, customers prevented 2.6m tonnes of CO2 from being generated, 4,100 mega litres of water being used, 1.6m m3 of wood being used, 1.7m trees being cut down and 1.4m tonnes of waste being generated.
Ms Cockerill concluded, "It was an exciting and interesting history to discover CHEP originated in Australia in 1946 after WWII."
Discovering the history of CHEP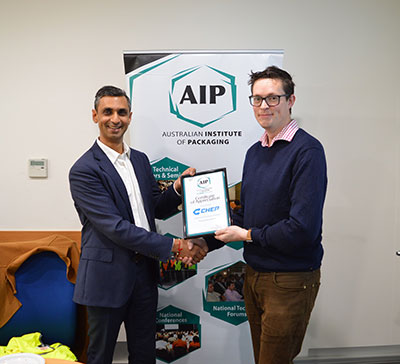 From its origins in Australia in 1946, CHEP has played a crucial role as a global supply chain solutions partner, supporting retailers, manufacturers and transporters to move and handle goods cost-effectively and sustainably across Australia, and around the world.
CHEP has operations in 60+ countries, employs approximately 12,000 people and has a pool of approximately 610 million pallets, bins, crates and containers.
CHEP have a wide range of industry platforms and solutions – more than 300 million shared and reused by growers, manufacturers, distributors and retailers, worldwide. Through these,
CHEP enables customer's supply chain to meet their profitability and sustainability goals, without having to compromise one for the other.
While CHEP helps customer to improve their bottom line they also help reduce the impact on the environment including; carbon footprint, consumption of natural resources, and waste sent to landfills.