As a part of the 60 year celebrations the AIP in partnership with Impact International, planted over 420 native trees along the banks of Five Mile Creek within the Impact International Forest.
The sustainable forest initiative, is designed to further reduce the carbon footprint of the business and become a carbon-neutral tube manufacturer. This unique idea also aims to offer customers the ability to offset carbon produced from the raw materials used to manufacture their tube packaging.
The Impact International forest is designed to help protect native Australian wildlife and fauna, whilst also reducing the carbon footprint of our customers packaging, i.e. our customers supply chain. Customers who are participating in Impacts sustainable forest program have access to the most sustainable tubes available in the world, plus are helping to protect native Australian wildlife and fauna.
Located 40 minutes' drive from Canberra, the Impact forest sits on 114 acres of former farmland, which was previously in a state of disrepair. The forest is an agroforestry Pinus radiate plantation of 20,000 trees and approximately 1,300 native Australian trees onsite.
According to Aleks Lajovic AAIP, Managing Director, Impact International "When the AIP suggested that Impact International and our sustainable forest initiative play a role in the AIP conference, we did not have to be asked twice."
"The AIP is the preeminent association and professional body for our industry and for Impact International to play a role in the AIP's 6-0th year celebrations was an honour. We look forward to watching the 400 plus native trees that were planted along 5-mile creek grow and play an important role in rehabilitating the native landscape. On behalf of all the Impact International team, happy 60th birthday to the AIP".
AIP Executive Director, Nerida Kelton FAIP, added that the AIP wanted to also commemorate their 60th year in a special way for their members and saw that planting trees in the Impact forest was the perfect solution.
"The beauty of the trees is that all AIP Members can watch their trees grow and visit the forest whenever they want. We would love to plan a trip to the forest and visit our trees so if you are interested please let me know so we can start planning a day in 2024."
---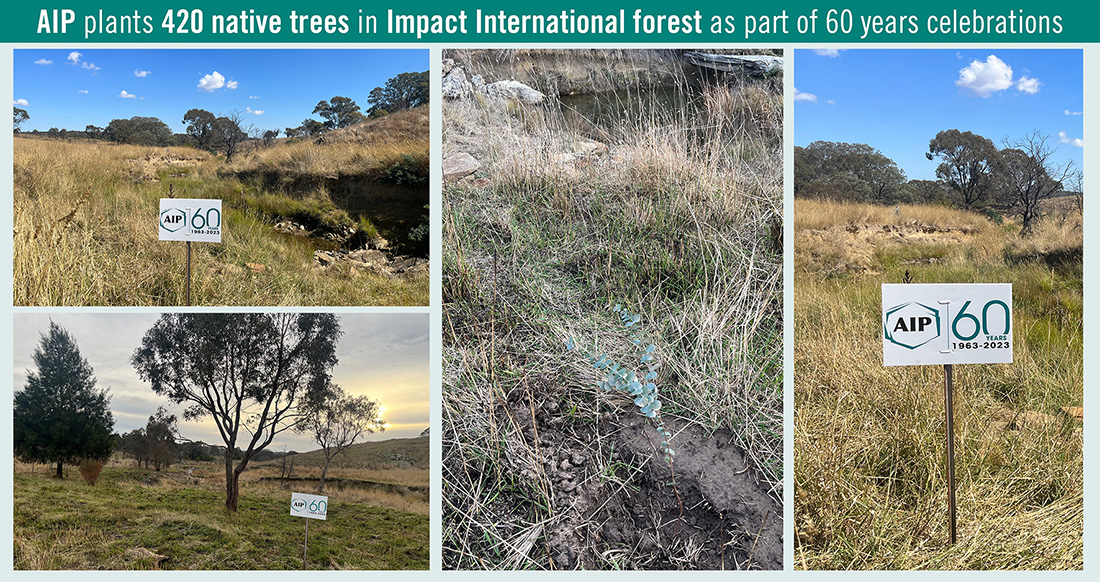 ---