Sustainable Packaging for SMEs Project
In short, this project was an overwhelming success.
AusIndustry partnered with the Australian Institute of Packaging (AIP) and with the support of Food South Australia launched a trial Bootcamp event (5 hours) in October 2021. Focussed on Sustainable Packaging for SMEs and implementation of the Sustainable Packaging Guidelines (SPG's) into their operations. Not only to improve the sustainability of their packaging but of their operations as a whole. This was attended by 30+ participants and 15 SMEs signed up to participate in this initial pilot project. It was such a success that a further 3 iterations of the Sustainable Packaging for SMEs project was rolled out nationally.
100+ SMEs participated in the project
30+ EP Facilitators supported their clients in the project nationally
4 x Bootcamps sessions (5 hours each)
3,000+ participants attended the educational sessions / webinars / bootcamps ..etc
40 sessions of AIP Hour of Power (Bespoke sessions for project participants with a packaging specialist to answer their specific questions)
2023 Australasian AIP Packaging Conference Workshop – SMEs telling their stories
20+ stakeholders involved
Testimonial…
"I collaborated with the Australian Institute of Packaging to design, create and deliver a Sustainable Packaging Project for SME's. The vision of this circular economy project was to provide advice and direction that was both practical and implementable for business owners. We did this by focussing on the implementation of the Sustainable Packaging Guidelines into SMEs business operation and leadership to meet the Australian 2025 National Packaging Targets. Over two years we leveraged a business advisory network who provided individual advice to 100+ small businesses that participated in the project from multiple sectors. The combined revenues of this group of businesses exceeded AUD$1B. Forty of those businesses participated in a new innovative approach we created called the 'AIP Hour of Power'. Where business would spend one hour working remotely with and being challenged by an approved AIP packaging specialist. This delivery method proved to be invaluable to all who participated. In addition, we held multiple 1.5 hour webinars and 4 x five hour sustainable packaging bootcamps. These activities were highly regarded and as a result attracted 3,000 + participants in total. It was an audacious project of national significance that had never previously been attempted. Its success was possible only through collaboration with the Australian Institute of Packaging and those stakeholders from government and industry committed to a more sustainable and circular economy in Australia. One of the real highlights for me was working with the passionate team at the AIP lead by Nerida Kelton with Ralph Moyle, Keith Chessell and Pierre Pienaar. They worked tirelessly to deliver webinars, bootcamps and the AIP Hour of Power sessions. Without all your support none of this would have ever been possible. Nerida and I would speak on an almost daily basis and is incredibly dedicated to the greater purpose of improving industry through a circular economy lens (Thankyou). So much more work is needed to be done in this space to support SMEs to navigate their way through the sustainable packaging challenge. To be honest I would replicate this model at scale. But a worthwhile one that will no doubt be shaped through the introduction of the new packaging regulations and packaging materials as they are introduced and new ones developed. " Brett Henderson, National Project Lead – Circular Economy
---
Sustainable Packaging Design | Case Studies
---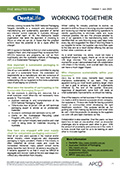 .
Company:    Dentalife
Country:      Australia
.
.

---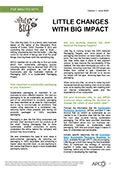 .
Company:    Little Big Dairy
Country:      Australia
.
.

---