Packaging development specialist Jason Fields, group procurement manager at JBS and a Fellow of the Australian Institute of Packaging, has been voted in as president of the AIP, taking over the reins from Dr Carol Kilcullen-Lawrence. PKN spoke to both leaders on the eve of the announcement.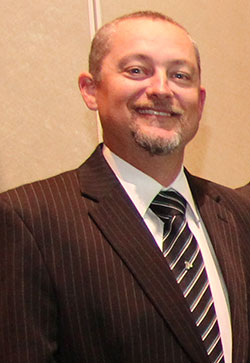 Jason Fields became a member of AIP some 20 years ago and in 2011 was awarded a prestigious Fellowship of the Institute. He has worked in packaging development for over 25 years with SC Johnson Wax, Colgate, SunRice, Primo and currently, JBS. Fields joined JBS three years ago, and in the last two years has moved into a procurement category management role looking after functional packaging.
At the AIP AGM on 15 April, Fields was announced as the new president of this peak body for packaging professionals which operates in Australia and New Zealand. He will work alongside the AIP board of directors and the executive team for the extent of his term.
The AIP executive team for 2020-21 comprises Nerida Kelton, executive director; Pierre Pienaar, education director; Ralph Moyle, education coordinator; and Craig Wellman, treasurer.
Along with the executive team, the AIP board members are: Northern Region director George Ganzenmuller; Northern Region associate director, Kevin Truong; Central Region director, Joanne Cockerill; Central Region associate director, Marlene Cronje Vermeulen; Southern Region director, Anthony Peyton, and Southern Region associate director, John Bigley. Truong, packaging development manager at Primo Foods, and Bigley, managing director of WA-based Zipform Packaging, are both new appointments to the board.
PKN spoke to the incoming and outgoing national presidents, Jason Fields and Carol Kilcullen-Lawrence.
PKN: What has motivated you to accept this voluntary role leading this highly active association?
JF: The extensive network of peers I have met and learned from through the AIP have helped guide my career and it is time to step up to give back to the association. Given that my current professional role is removed from technical packaging applications, it is also an opportunity to continue to stay at the forefront in this exciting and dynamic area of knowledge.
PKN: What do you hope to achieve during your tenure as president?
JF: The AIP is in a very strong position in terms of its core focus of education and as such no major changes in direction are required, I hope to continue to build on this foundation and make the AIP the go-to organisation in Australasia for packaging training and education. The AIP has an extensive educational portfolio for anyone wanting to become a globally recognised packaging professional and we look forward to expanding these offerings in the next few years.
PKN: What do you think will be the big challenges AIP members will face in the coming year?
JF: Trying to balance making advances on development of sustainable packaging systems in a world whose supply chains are in disarray and businesses are struggling to balance supply and demand fluctuations due to Covid-19.
Dr Carol Kilcullen-Lawrence has served as AIP president since 2017, and recently shared her career highlights and views on the packaging market in PKN's People in Packaging column (PKN March-April 2020, page 22).
PKN: During your tenure as AIP president, what stood out as a highlight in terms of association activities and achievements?
CKL: A highlight for me during my term as president of the AIP was the highly successful international conference we ran at the Gold Coast in 2018. Alongside this event, the AIP hosted the WorldStar Packaging Awards in combination with the Australasian Packaging Innovation & Design (PIDA) Awards, which was a fabulous opportunity to acknowledge the local Australasian winners on the world stage. We had over 500 people from 23 countries attend. During this event our renowned fellow Prof Harry Lovell OAM was awarded a WPO Lifetime Achievement in Packaging Award, truly acknowledging his enormous contribution to our industry over many years. It was an honour to have been able to see him receive this award in front of his Australian and New Zealand peers.
PKN: What would you regard as a key AIP achievement from your presidential term?
CKL: During my time as president, the AIP constitution was reviewed and revised significantly to bring it into line with current Australian guidelines. The AIP is indebted to the work that our past president Ralph Moyle undertook in completing this extensive project, with the new constitution voted in with the full support of our members
PKN: What words of wisdom do you have for the incoming president?
CKL: To Jason, our incoming president, I know that from your time on the board you will be aware of the depth of knowledge and commitment of our many members. I am also confident that they will continue to share openly with you and fully support you in your role, as our institute continues to meet new milestones in providing outstanding education programs for our industry. I am extremely fortunate to have had such a dedicated team to work with and I would like to thank the board, together with Nerida & Mark Kelton, for everything that you have done for the AIP and your ongoing support in the future.
PKN: What do you think will be the big challenges AIP members will face in the coming year?
CKL: The challenges that AIP members are currently facing with the Covid-19 pandemic will undoubtedly continue well into 2021. How we make the most of this situation will stand us in good stead to find a way out of this crisis. Consumers will still need packaging and are already appreciating the importance of packaging, particularly where it is protecting food. Whilst progress in some areas may be slow, it is fantastic to see that the progress towards meeting, and possibly exceeding the 2025 National Packaging Targets continues to make major steps forward.
Click here for more information on  how to become a member of the Australian Institute of Packaging (AIP).
Courtesy of PKN Packaging News
www.packagingnews.com.au